Karl Lagerfeld is renowned for both his fashionand his person. Almost everyone knows what he does, but little is known about who he actually is: What drives him and how he works and what he thinking behind his mask of glasses and ponytail remains largely hidden.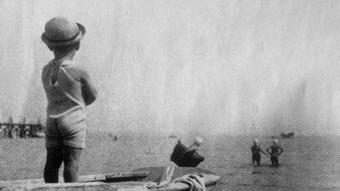 A childhood photo of Karl Lagerfeld at the lake.
Lagerfeld not only maintains distance to everything around him in a very entertaining way, but also to himself. His scathing media-savvy comments are both notorious and feared, and he does not spare himself either. The image he has created of himself is just as much part of his marketing strategy as his self-deprecating statement, "My name is now no longer Lagerfeld, but Logofeld." But he was being more serious when he said: "There is a glass wall between me and the rest of the world." The film breaks through this glass wall in search of the man behind the iconic façade, showing Lagerfeld's famous showmanship on the one hand and exploring unfamiliar moments of intimacy on the other.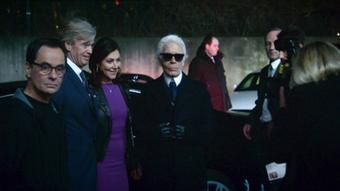 Karl Lagerfeld at the opening of his show at the Grand Palais in Paris.
Although he's over 80, Lagerfeld is still a real workhorse, constantly designing and eschewing breaks or holidays. Most days he works from dawn until late morning on designs for Chanel, Fendi and his own brand KARL, but also he designs everyday things. When he saw a Dior show in a Hamburg hotel as a young man in 1950 looked, he decided to go to Paris and create fashion. Lagerfeld talks about that as well as about his well-to-do origins and childhood in Schleswig-Holstein. His father was a businessman who sold dairy products, but his mother had a much greater influence: Lagerfeld still refersto her as his personal style icon.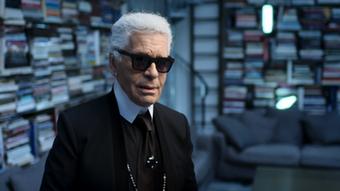 Although he has such a high public profile, most people know very little about Karl Lagerfeld as a person.
Gero von Boehm's documentary takes us through this and creative versatile man's turbo-charged life. Lagerfeld in fact works in many media, ranging from paintings, photographs and art books to video, and he has had several exhibitions devoted to his work. The film allows you to experience him as a famous pop star at the opening of his show at the Folkwang Museum in Essen and during the hectic preparations for his shows and photo shoots in Paris.

Broadcasting Hours:
DW English
SUN 09.09.2018 – 19:15 UTC
MON 10.09.2018 – 01:15 UTC
MON 10.09.2018 – 15:15 UTC
WED 12.09.2018 – 05:15 UTC
THU 20.09.2018 – 03:15 UTC
SUN 23.09.2018 – 09:15 UTC
Cape Town UTC +2 | Delhi UTC +5,5 | Hong Kong UTC +8
San Francisco UTC -7 | Edmonton UTC -6 | New York UTC -4
Lagos UTC +1 | Cape Town UTC +2 | Nairobi UTC +3
London UTC +1 | Berlin UTC +2 | Moscow UTC +3

DW Deutsch+
MON 10.09.2018 – 09:15 UTC
Vancouver UTC -7 | New York UTC -4 | Sao Paulo UTC -3