German police used spotlights to illuminate a Bremen garden to track down who -- or what -- was making all the racket in the German port city.

The sounds were coming from a couple of hedgehogs caught in the act.

Bremen police spokesman Ronald Walther told Reuters, "The pair were loudly engaged in ensuring the continuity of their species."

Hedgehog exhibitionism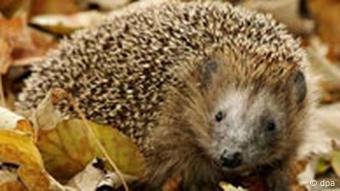 A baby hedgehog could now be on the way
Unlike the embarrassed teenagers who pull their pants up and run when the illuminated with the bright light of a police spotlight, the pair of hedgehogs seemed to love the attention and were more than happy to indulge their exhibitionistic tendencies.

"All those spectators did not worry them in the least; indeed they even intensified their activities, so the officers turned off the lights," Walther said.

But the noises weren't exactly squeals of delight. During the hedgehog breeding season from April to September, all sorts of puffing and snorting can be heard in the great outdoors as female hedgehogs try to ward off males.