The revelations have shocked the public and upset the media world. A controversy involving high-profile journalists and their taped telephone calls has given India its own WikiLeaks-style storm. It has been termed the "Radiagate".
India's own 'mediagate'
Top journalists are heard in conversations with influential lobbyist Niira Radia after the 2009 general elections, discussing who should be in the next cabinet. Radia worked as a lobbyist for two of India's biggest industrialists: Mukesh Ambani, head of Reliance Industries, and Ratan Tata, whose conglomerate's interests include phone operator Tata Teleservices.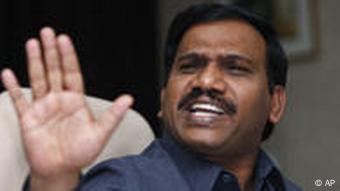 India's former Communications and Information Technology Minister A. Raja
In the taped conversations, Niira Radia was apparently pushing for A. Raja, a south Indian politician, to be reinstated as a minister.
As telecom minister before the election, Raja had overseen the sale of the lucrative 2G phone licences at rock bottom prices - which is now turning out as potentially one of the biggest corruption cases in Indian history. It is estimated to have cost the exchequer over $35 billion in lost revenues.
Transcripts of the 104 tapes, many of which have been printed by two news magazines, "Open" and "Outlook", have called into question the reputations of, among others, celebrity anchor Barkha Dutt and veteran newspaper columnist Vir Sanghvi. Both deny any wrong-doings.
But Hartosh Singh Bahl, the political editor of "Open", points out that there is a larger problem.
"The people who have been caught on tape are by no means the only ones who have been part of this cosy relationship. This extends far beyond the few journalists who have been named or have been seen on tape. Whether it leads to a larger cleanup in the immediate future, I am not so sure. There will be a certain sense of caution. But till journalists as a whole try to organize themselves in a way, enforce a code of ethics in day-to-day work, I am not sure things will change in the long run."
Time for introspection
Eminent sociologist Dipankar Gupta agrees that there is a need for serious introspection by the mainstream media.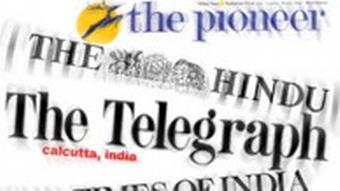 The 'Radiagate' controversy has caused a heated debate about media ethics
"The lesson that the media should learn is that they are really judged in the court of the people. And what they do must not only seem legal but also proper. And over the years they have become a little complacent because of their closeness with powerful people, the rich and the powerful."
The controversy has caused heated debates among journalists, in press clubs and other forums.
"This is a wake-up call because now it is out in the open. It concerns a few people in the media but unfortunately these people are of high profile. And I think a large number of people in the media are conscientious regarding their business and this should help them realize what they should not do. I think sometimes what they should not do is more important than what they should do," Dipankar Gupta argues.
The controversy is far from over and could possibly mark a new chapter in Indian journalism.
Author: Murali Krishnan
Editor: Thomas Baerthlein