German politicians hope to turn the page on the question of atomic waste disposal. Leading opposition figures including the chair of the Social Democrats (SPD), Sigmar Gabriel, and the leader of the Green Party, Jürgen Trittin, were invited to a joint meeting by federal and state representatives to reach a conclusion on the issue.

The participants discussed the conditions under which a final disposal site for Germany's atomic waste should be sought. Federal Environment Minister Norbert Röttgen of the Christian Democrats (CDU) seemed unexpectedly optimistic after the summit, saying it would require just one final meeting to clear up remaining questions.

"Consensus is near, and we could have gotten there," he said, having announced before the meeting that the corresponding law is already nearly 90 percent complete.
Remaining obstacles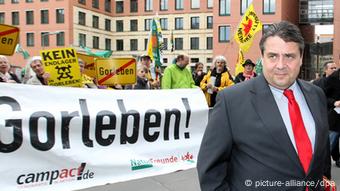 SPD chair Sigmar Gabriel has lingering doubts about the concept
The last 10 percent of the law is key, so it is no surprise that critical voices abounded ahead of the meeting among governmental leaders in Berlin. SPD head Sigmar Gabriel said he saw no chances for a breakthrough, noting a lack of clear criteria in Röttgen's concept for a disposal site. Gabriel also warned against using a current and controversial disposal facility in the municipality of Gorleben as a reference point. Jürgen Tritten went further, demanding that Röttgen put an end to investigations on the suitability of the site at Gorleben.

So far, Röttgen has resisted giving in to objections about Gorleben, a point on which German industry has supported him. A chief argument they bring is that 1.5 billion euros ($2 billion) have already been invested in the site.

Most parties involved in the debate are defending their own interests. After Merkel's government did an about face on atomic policy one year ago and resolved to stop relying on nuclear energy, the question of disposal now tops the nuclear agenda. Critics of using the site at Gorleben have noted that water and gas enclaves in the area could threaten the safety of nuclear deposits there.

But the discussion has gridlocked, and little has changed in the last 35 years. A new proposal would involve looking to clay or granite deposits as waste repositories, with such sites being most prevalent in the states of Lower Saxony, Mecklenburg-Vorpommern, Saxony-Anhalt and Baden-Württemberg.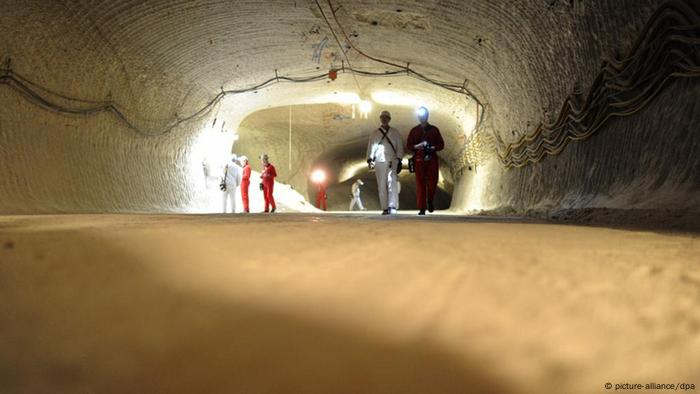 A shaft in a pilot mine in Gorleben
Who is behind the search?

The environment minister would like to see the search for a disposal site take place without any restrictions made in advance. To that end, he would also like to establish a new federal institute to examine all possibilities.

However, he opposition has resisted that suggestion. The Green Party fears the process could lead to a break-up of one of its favored agencies, the Federal Office for Radiation Protection headed by Green Party member Wolfgang König. That institution has often been critical of the use of nuclear power.

Open questions about who will lead the search for a resting site for the waste suggest that it may take more than just a final meeting for German parties to come to an agreement.

Author: Heiner Kiesel / gsw
Editor: Richard Connor