"Lyudmila is no longer Putin" was the headline of the investigation on the Russian news website Sobesednik that claimed Russia's former first lady has remarried and changed her surname.
Lyudmila Ocheretnaya, known for more than 30 years as Lyudmila Putina, married Artur Ocheretny early last year. According to Sobesednik, Artur Ocheretny is 20 years younger than his new wife and heads the Centre for the Development of Interpersonal Communications, which operates under his wife's patronage.
The details of Russia's former first lady's second marriage were checked by the investigation department of Russian opposition politician Alexey Navalny's Anti-Corruption Foundation.
According to documents published in the Russian media, an apartment in St. Petersburg, which was originally owned by Vladimir and Lyudmila Putin and their two daughters, was transferred to Lyudmila Ocheretnaya last year. The date and place of birth of Ocheretnaya match those of the president's ex-wife.
The Russian leader and Lyudmila Putina announced their divorce on television in 2013 after attending a ballet performance.
"Our marriage is over," Lyudmila Putina said, "due to the fact that we barely see each other.
"Vladimir Vladimirovich is completely submerged in his work," she added. "Our children have grown up, each of them is living her own life... And I truly don't like publicity."
Since the divorce, rumors have swirled concerning the whereabouts of the former Mrs. Putin. Some said she had been sent to live in a convent, others that she had married a singer. There is nothing to suggest any of these may be true.
On Twitter, one user wrote: "We all thought Lyudmila Putina was in a convent, asking for forgiveness for the sins of her husband. Actually, she just went and found herself a stud."
In a country where the details of the president's private life are closely guarded, any tidbit of gossip is gobbled up. According to Sobesednik, last year the most searched-for data on Google by Russians was new information about Lyudmila.
Unlike other world leaders whose families are often in the public eye, the whereabouts of Vladimir Putin's daughters are generally unknown to the public - although a recent Reuters investigation has suggested one of them may be Ekaterina Tikhonova, a rock-'n'-roll dancer and academic.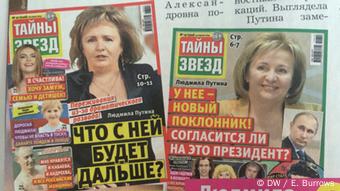 Lyudmila said she doesn't like publicity, but that hasn't kept her off magazine covers
In the information vacuum, rumors have also abounded about Putin's relationship with former Olympic gymnast Alina Kabaeva. In 2015, the president's spokesman, Dmitry Peskov, denied reports that Putin had fathered a baby with her, telling "Forbes" magazine, "Information about the birth of a baby fathered by Vladimir Putin does not correspond to reality."
DW has contacted Facebook accounts that Russian media reports suggest might belong to Lyudmila and Artur Ocheretny, but has received no reply.
Regarding Lyudmila's remarriage, Peskov told Russian state media: "Lyudmila Aleksandrovna is Putin's former wife. Vladimir Vladimirovich and Lyudmila Aleksandrovna are divorced. Naturally, in this case I am not in the position to say anything about Lyudmila or her private life."
That, however, has not stopped curious Russians, hungry for information about the love lives of their president and his ex-wife.
In a kiosk in central Moscow a magazine is on sale emblazoned with a picture of Lyudmila. For 31 cents, ($0.34) it suggests it will answer the question of whether "she has found her love and is happy again." Inside are, supposedly, pictures of her new husband.
There is only one copy left at the kiosk.
"They've all been bought," the salesman said. "Just look who is on the cover!"