On February 21, 2012, the punk band "Pussy Riot" staged a protest in Moscow's Cathedral of Christ the Savior . The three members chanted a punk prayer against President Vladimir Putin, singing "Mother of God, cast out Putin." Their performance gained them international attention. The three women are now facing three years in prison.
DW: Ms. Klassen, the official charge is hooliganism. But one can't help but think that it's about more than just hooliganism, namely that it's about the fact that a band is protesting.
Marioa Klassen: Only up to a point, because there are also other types of bands - punk or heavy metal - in Russia. There's something very different surrounding this issue. Pussy Riot's case has caused so much commotion because it's about a punk band that caused a disruption in a church. That's where the band went too far.
Is that why this case became a political issue?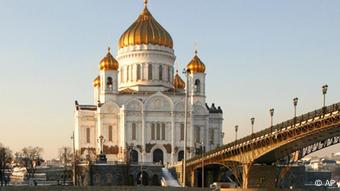 In February "Pussy Riot" staged a protest inside the Cathdral of Christ the Savior in Moscow.
As a matter of fact, it was the Russian Orthodox Church that made it into a political issue. These young women have brought so much disfavor upon themselves because they chose a Russian-Orthodox church. And not just any church, but the deeply symbolic Cathedral of Christ the Savior, of all places. That's why the Church didn't just reprimand the lost, wild girls and leave it at that like a merciful Church. Individual members of the clergy have spoken out on Russian language blogs and criticized the church's tough stance. But those are just a few individual opinions. That's not the Church's attitude as a whole.
Is it mainly the Church that's pressuring for such a severe penalty?
It's a complex case. It would be too simple to say that Putin's government wants to make an example of these women in order to send the opposition a message. That explanation would fall short because there's the general population was outraged by what happened. Even without the Church's influence, many religious Russians are of the opinion that these women should be punished severely for what they did. You can never forget that we're in Russia, not Western Europe. This sort of incident takes a different turn. Then even a figure like Putin could afford to go to London, play the merciful leader and demand that Pussy Riot be dealt with more leniently. Maybe he really means it. Russia is still a different country. The West's understanding of tolerance is still strange to Russian society.
Do Pussy Riot's rebellious lyrics tie into the Russian tradition of anti-state songwriters?
You can't compare their music with the bards' music or the music of songwriters during the Soviet era. A lyrical Bulat Okudshava or a rebellious Vladimir Vysotsky would never have forced their protest onto others in such a way, as if they were ambushing them. At that point in time, it was predominantly intellectuals that criticized the dictatorship, performing well-founded arguments in Aesopian language that had substance. And they risked a great deal doing so.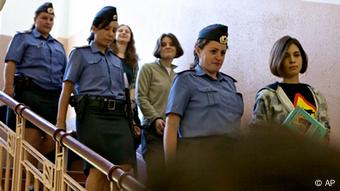 Escorting the band into court - Russia's legal system gets much criticism for the handling of the case.
The urban-rural divide is still very big today like it was back then. It could be that this type of music is unknown or not popular just 200 kilometers (124 miles) outside of Moscow. Moscow isn't Russia. The metropolis - which is where Russia's entire economy is concentrated and every foreign representative lives - gives the deceptive impression of a big city and a capital. But the people living just 200 to 300 kilometers away are still living in Soviet conditions to some extent. In Moscow, Pussy Riot can act wild because they're measuring themselves against the West - the rest of the country doesn't, though. Pussy Riot's music doesn't reflect a general trend. People in smaller cities first found out about Pussy Riot from what they did in the cathedral.
You mentioned the songwriters from the Soviet Era. What influence did they have in rural and urban areas?
Back then, those types of bards weren't only known by the intellectual crowd, but also by the general population. They were appreciated for their insightful language and their ability to talk to anyone. That's how they became the megaphone of many.
Does this type of protest music still exist today?
In contemporary, globalized Russia, quantity has replaced quality in many places. During the dictatorship, two, three brave voices were heard throughout the entire country even though it was officially disrespectful.
In many countries there are solidarity movements for the "Pussy Riots". Could that have an effect, in Russia, too?
You would hope that would be the case from a legal and official point of view. But sometimes that sort of thing can lead to an undesirable backlash. The more the West has pressured Russia, the more Russia has withdrawn itself in the last few days and the more it has resisted "outside interference." It's difficult to predict how things will proceed from here.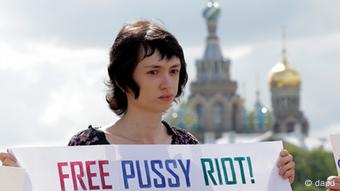 Protester in St. Petersburg: It's mostly in urban Russia that people speak out for the band.
Does international solidarity have a positive or a negative effect on opposition members or critics in Russia?
I don't believe that these girls were thinking so politically when they began their protest. They wanted to rebel and to express their critical attitude toward the Russian government. But not in the way that we're used to from former dissidents and intellectuals who had thought their political positions through and shaped factual arguments. These girls have been fashioned into martyrs, which is just going too far. The more the defence makes the young women into martyrs, the more their opponents will demonize them, which leads to the camps becoming radicalized. And that wouldn't help anyone.
The problem spans the entire society. Many things from the Soviet Era still haven't been processed.
Should "Pussy Riot" have anticipated these reactions?
They definitely didn't bargain for the waters to get this choppy. They might have expected a fine, but not a prison sentence.
Maria Klassen is a translator and editor. The Russian-German has lived in Germany since 1976. Klasse serves on Cologne Lew Kopelew Association's the advisory board. The association provides a forum for writers, artists, and academics engaged in promoting European understanding, specifically between Germany and Russia.
Interview: Sabine Oelze