The 70-year-old man from San Juan died from an auto-immune reaction to the virus in late February, Puerto Rico's Health Secretary Ana Rius said.
The patient reportedly recovered from initial Zika symptoms, including fever, rash and body pain, but then developed a condition that targets blood cells and prevents clotting. Officials said the man ultimately died from internal bleeding resulting from the complication, known as immune thrombocytopenic purpura (ITP).
Ruis said three other cases of the condition had been reported in the country, but that those patients had recovered successfully. Similar instances have also been confirmed in South America, including three Zika-related ITP deaths in Colombia.
Zika is mostly known for causing microcephaly, a birth defect marked by an abnormally small head size that can lead to severe developmental problems in babies. There is also strong evidence linking the virus to Guillain-Barre, a paralyzing neurological syndrome that causes the immune system to attack nerves.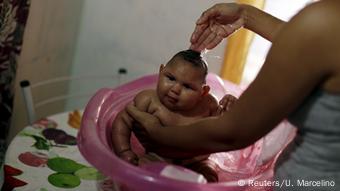 Zika has been linked to microcephaly in babies
More investigation needed
Doctor Tyler Sharp of the US Centers for Disease Control and Prevention (CDC) said the ITP case developed much in the same way as patients with Guillain-Barre. In both cases, the auto-immune attack occurs after Zika symptoms have been cleared.
Sharp said researchers were studying how Zika causes these rare disorders, and whether they are caused by the same mechanism.
"It's of high public health importance that we figure this out and as quickly as we can design some interventions to stop it," he said.
First death
The San Juan fatality is the first Zika-related death in Puerto Pico. The US territory in the Caribbean has confirmed 683 other cases of infection - including 65 pregnant women, according to the CDC.
The health institute has warned of a potential explosion of Zika on the island.
"Although Zika virus-associated deaths are rare, the first identified death in Puerto Rico highlights the possibility of severe cases, as well as the need for continued outreach to raise health care providers' awareness of complications that might lead to severe disease or death," the CDC said.
Elsewhere in the Caribbean, the island of Guadeloupe on Friday announced a Zika epidemic with 2,100 suspected cases.
The World Health Organization in February declared a public health emergency over the virus, which spreads via mosquitoes and sexual contact.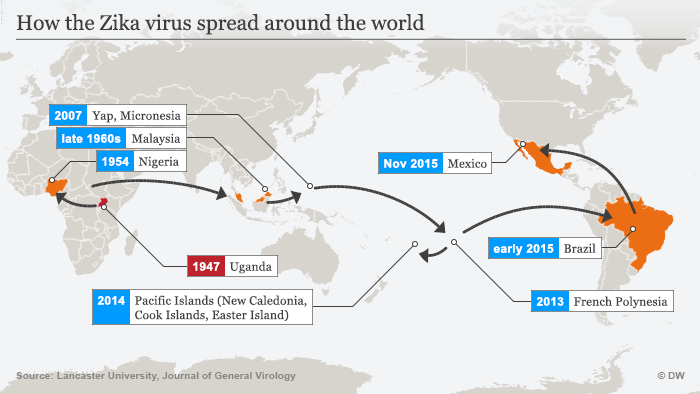 nm/jm (Reuters, AP, AFP, dpa)