Protests against Greece's unpopular austerity measures turned violent on Wednesday, with police using tear gas on demonstrators in Athens who were throwing stones and firebombs.
Thousands of workers, students and pensioners took to the streets of Athens, Thessaloniki and the port of Piraeus while a 24-hour general strike paralyzed most public services.
But peaceful protesters in Athens reportedly ran to side streets for cover when groups of young people in hoods and ski masks started throwing stones and Molotov cocktails at police. The authorities' efforts to disperse the crowds with tear gas left Athens' central Syntagma Square blanketed with the substance.
At least three policeman and three civilians were reported injured, while police detained 20 people for questioning.
Authorities put the number of protesters in Athens at 18,000, while organizers said more than 60,000 people showed up.
Protests in Greece have turned violent before, with at least three people killed in one demonstration in Athens last year.
Wednesday's strike was called by Greece's public and private sector unions, which demanded an economic policy "that will boost employment, incomes, social and labor rights and social cohesion."
"People and their needs are above profits and numbers," the public sector union GSEE said, warning that Athens' austerity measures were "broadening recession, unemployment, poverty and degradation to the profit of industrialists and bankers."
Painful reforms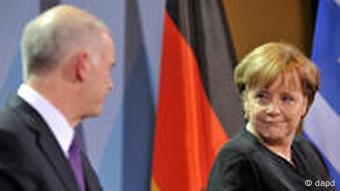 Merkel had been hesitant to bail out Greece but has now praised the reform efforts
In order to deal with its debt crisis and avoid bankruptcy, Greece last year received a bailout from the European Union and the International Monetary Fund totaling 110 billion euro ($150 billion).
In return for the aid, the government had to pledge far-reaching reforms to gradually rid the country of its towering debt. Athens has cut salaries and pensions as well as increased taxes to satisfy the EU and IMF.
The country's path out of debt and recession is seen as a test case for whether the eurozone's weak economies can escape the threat of bankruptcy by implementing reforms.
German Chancellor Angela Merkel on Tuesday praised the "painful" Athens' reform course during talks with Greek Prime Minister George Papandreou. Germany was among the most hesitant countries to back EU aid to Greece when the emergency bailout was drawn up, in 2009.
Authors: Andreas Illmer, Shant Shahrigian (AFP, dpa, Reuters)
Editor: Michael Lawton