Protesters attempted to force their way into Syrian embassies across Europe over the weekend in an apparent response to the assassination of a leading Kurdish political figure who was a member of the opposition Syrian National Council (SNC).
A group of about 30 demonstrators stormed the Syrian embassy in Berlin early on Sunday and confronted the ambassador, according to the police.
The break-in followed earlier demonstrations outside the embassy on Saturday. No one was hurt or arrested, a police spokesman told the news agency AFP.
The protesters broke through a fence and rushed inside to confront the ambassador, who also lives at the embassy.
The police said embassy staff reacted very calmly, and the protesters were merely removed from the scene. There was no violence or arrests.
The police have since strengthened their presence around the embassy.
Protesters arrested
In Hamburg, 30 protesters gathered outside the Syrian consulate early on Sunday, with some of them managing to break into the ground floor and spraying graffiti on the building's walls, according to police spokeswoman Karina Sadowsky.
Four Syrians were arrested and still detained early Sunday pending verification of their visa situation, Sadowsky added.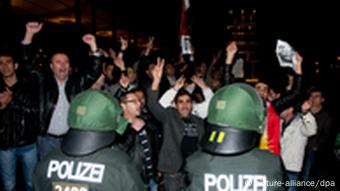 The death of Tammo has sparked outrage
Earlier, five protesters were arrested in Switzerland late on Saturday after forcing their way into Syria's mission to the United Nations in Geneva, according to police spokesman Patrick Puhl.
And in London, British police said they had arrested seven protesters outside the Syrian embassy on Saturday, including three who scaled the building and waved the Kurdish flag from the rooftop. Around 50 to 60 people had gathered outside the embassy to protest, according to police.
Syria threatens 'retaliation'
The rash of embassy protests followed a long day of violence in Syria, after security forces opened fire on a funeral for Kurdish opposition leader Mashaal Tammo, killed on Friday by masked gunmen in his home in north-eastern Syria.
The Syrian government, meanwhile, threatened retaliation against nations who recognized the SNC, formed in Istanbul, Turkey in August to bring together opposition groups including the activist network Local Coordination Committees (LLC), the banned Muslim brotherhood as well as Kurdish and Assyrian groups.
"We will take significant measures against any country that recognizes this illegitimate council," Syrian Foreign Minister Walid Muallem said.
Damascus blamed Tammo's assassination on a "terrorist" group.
"There are groups carrying out acts of violence in Syria and who have killed a great number of martyrs," Muallem said. "The West speaks of a peaceful revolution and does not admit these groups exist, but arms them anyhow."
Author: Spencer Kimball, Stuart Tiffen (AP, AFP, AP, Reuters, dpa)
Editor: Nicole Goebel