According to the commission's findings, Reiner Protsch von Zieten lied about the age of human skulls by dating them back thousands of years. He is also accused of trying to sell specimens that belonged to the university and plagiarizing the work of colleagues.
"The commission finds that Prof. Protsch has forged and manipulated scientific facts over the past 30 years," a university statement read.
The report also said Protsch was unable to properly employ methods to date specimens. He allegedly presented skulls that he said were tens of thousands of years old even though they belonged to people who died just a few hundred years ago.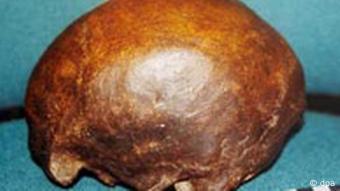 One of the skulls, which might be much younger than orignally thought
"Anthropology now has to revise its picture of modern man between 40,000 and 10,000 BC," Thomas Terberger, an archaeologist at the University of Greifswald in eastern Germany told reporters.
Protsch denies misconduct
While Protsch, 66, did not comment on the commission's findings after they were publicized, he already attacked the investigation in an interview with Frankfurter Neue Presse on Jan. 14.
"This was a court of inquisition," he said. "They don't have a single piece of hard evidence against me."
Protsch has also said that the questionable dating of skulls was not done by him but by an assistant instead. He said that skulls claimed by the university as its property belonged to him and said that he always credited colleagues appropriately in his publications.
Consisting of several university professors, the commission did not recommend any further investigation into the matter, but suggested university officials should consider revoking Protsch's pension. State prosecutors said they were still investigating embezzlement allegations against the anthropologist.
University to blame as well
The commission also blamed university officials for failing to act earlier on tips about Protsch's misconduct. Even when Protsch, who received a doctorate from the University of California, Los Angeles, was first hired, the university's self-control mechanisms failed as experts had warned officials about the candidate's lacking credentials.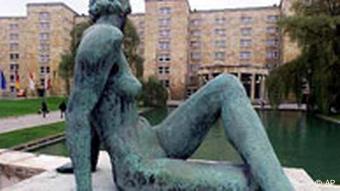 A sculpture outside a building belonging to Frankfurt University
Frankfurt University's president, Rudolf Steinberg, on Thursday apologized to "all those harmed by" Protsch and acknowledged that the institution's administration had ignored the professor's misconduct for decades despite existing proof for his mistakes.
"A lot of people looked the other way," Rudolf Steinberg, the university's president, told Frankfurter Allgemeine Zeitung. He added that students and new university employees would be informed about the basics of appropriate scientific research behavior in the future.