"Meghan Markle has asked His Royal Highness The Prince of Wales to accompany her down the aisle of the Quire of St George's Chapel on her Wedding Day," Kensington Palace said in a statement on Friday.
Meghan Markle had confirmed on Thursday that her father, Thomas, would not be able to show up at St George's Chapel in Windsor Castle on Saturday, when the former star of TV drama Suits will tie the knot with Prince Harry, sixth-in-line to the throne.
The Emmy Award-winning TV lighting director had emitted a series of contradictory statements this week about whether he would be attending the highly anticipated ceremony, with the Los Angeles-based celebrity website TMZ.com saying he was hospitalized after having undergone heart surgery on Wednesday.
Read more: The 'Markle sparkle': Why Prince Harry's fiancée reminds people of Princess Diana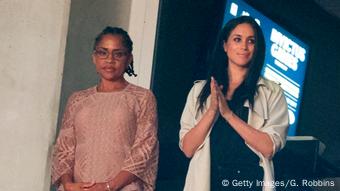 Markle and her mother Doria Ragland
It had been speculated that Doria Ragland, Meghan Markle's mother, would be asked to walk her daughter down the aisle instead. An African-American social worker and a yoga instructor with dreadlocks and a nose ring, the mother of the bride has been described as a "free spirit" by her daughter.
Having the father of the groom take the honor is yet another twist in a royal wedding that is breaking with long-established traditions.
96-year-old Prince Philip to attend
Some 600 guests, including all the senior British royals and various celebrities, are expected at Saturday's event.
Queen Elizabeth's 96-year-old husband Prince Philip also confirmed on Friday that he would be attending the wedding — just a few weeks after undergoing a hip replacement operation. The Duke of Edinburgh has largely retired from public duties and it had not been clear whether he would be feeling well enough to attend.
Markle's half-brother and half-sister Thomas and Samantha are however not invited. Thomas Markle Junior has said Markle is "probably embarrassed" by them.
Earlier this month, the estranged brother had sent an open letter to Prince Harry, published in celebrity gossip magazine In Touch, in which he described the upcoming nuptials as "the biggest mistake in royal wedding history," and his half-sister as a "jaded, shallow, conceited woman that will make a joke of you and the royal family heritage."
The 51-year-old American publicly apologized through an interview with the Daily Mirror tabloid, describing the letter as a "moment of madness."
Read more: Meghan Markle's choice of cake: a spring-flavored revolution?
eg/sb (AP, Reuters, AFP)