Götz Czymmek is a patient man. For over two decades, he has nursed a secret that any art lover would struggle to keep.

In 1991, as curator of the Wallraf Richartz Museum in Cologne, Czymmek received an anonymous phone call from an elderly woman, informing him that an original and well-preserved Monet awaited him in a cardboard box in her cellar and was his to have but only under strict conditions. She was to remain anonymous, and the painting could only be displayed upon her death.

As the anonymous donor has since passed away, Götz Cymmek is now at liberty to tell the strange story of how he came to possess the valuable gift.

A 'once-in-a-lifetime' gift

"At first, I didn't take the woman too seriously; I thought she probably just wanted me to verify the painting as an original, which is not unusual," said Czymmek. He was invited to her home to view the work, which he found in a plain cardboard box in the middle of her living room.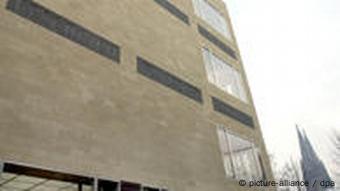 The Wallraf Richartz collection ranges from medieval to 19th century art
"This painting immediately had me under its spell," said the curator. "The woman insisted that I take the painting with me immediately, because she didn't want it in the house. And so, I drove back to Cologne with a Monet in a cardboard box in the backseat of my car."

For the next 20 years, the painting was stored in the basement of the Cologne museum.

Götz Czymmek never saw the elderly woman again, although she contacted him at least once a year, often with the simple message: "I'm still alive!"
While many works of art are bequeathed to the museum, Czymmek said that receiving a gift as rare and valuable as this is a once-in-a-lifetime occurrence.
"We are often given paintings and we are happy about many acquisitions, but sometimes these paintings are left to us because they are not sellable, and they are often in poor condition," explained the curator. 
Significant work for Monet and museum

"Spring mood in Vetheuil" was the exception. It has been identified as an original dating to 1880 and depicting a scene from the town where Monet lived from 1879 to 1881.

The work dates to a pivotal moment in Claude Monet's life and work. It was here that his wife Camille died in 1879, and where he later met his second wife, Alice. In spring 1880, he held his first solo exhibition after refusing to take part in the 5th Impressionist Exhibition, thus signaling the year he chose to emancipate himself from his Impressionist contemporaries.

1880 was a crucial year for Monet, as it laid the foundation for his landscape painting until well into the 20th century. But the painting itself does not fill in any gaps in Monet's body of work, contended . Mario von Lüttichau, curator for 19th and 20th century collections at the Museum Folkwang in Essen.
"Of course, it's always significant to uncover a painting by a major artist like Monet," he told Deutsche Welle. "But this landscape is not an especially pivotal work, and art historians hadn't been on the look-out for it."

In 2008, another Monet, which had hung in the museum since 1954, was found to be a fake. But Czymmek is positive that this Monet is the real thing, pointing to an old sticker on the back of the painting from the Berheim Jeune gallery in Paris, which traded some of Monet's works.
The smell of an original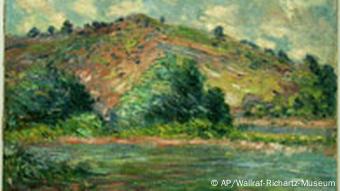 "The Banks of the Seine at Port-Villez" was shown to be a fake in 2008
On the other hand, stickers can be misleading, pointed out Dr. Mario von Lüttichau.

"Stickers are an index, but we've already seen cases of paintings turning out to be fakes despite having the right stickers on the back," Lüttichau told Deutsche Welle, who has not yet seen the work in person.
"For me, the decisive thing is always the experience of seeing - and even smelling - a painting. That's how you can tell if it's authentic."

Czymmek noted that the elderly donor came into possession of the painting in the 1940s, but it is not clear where it had been during the Nazi period, from 1933 to 1945.

"We cannot exclude the notion that this painting was possibly stolen from a previous owner by Nazis during the war," he said, "But the painting has been available for a few months now, and so far no one has claimed it."

"Spring mood in Vetheuil" is now on display for the general public in the Impressionist room at the Wallraf Richartz Museum in Cologne, which is celebrating its 150th anniversary this year.

Author: Sasha Pavey / kjb
Editor: Greg Wiser