Speaking in the capital's Ibarra Square after a march Saturday by supporters of his Socialist Party, Maduro said his opponents were "orchestrating foreign military intervention in Venezuela."
The president added that undefined exercises by the army and militia groups would "prepare for any scenario."
Upping the rhethoric
"We're going to tell imperialism and the international right that the people are present, with their farm instruments in one hand and a gun in the other... to defend this sacred land," Maduro told the rally.
"The oligarchy's plan is to disturb the peace so they can justify foreign intervention in Venezuela," Maduro said. "I'm not an extremist for saying this, but they're extremists for wanting to carry this out," he went on.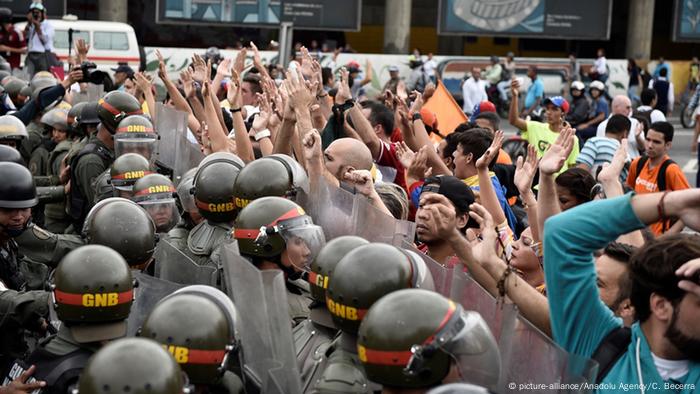 Venezuelan police block the road during an anti-government demonstration
Opposition growing
Opponents of Maduro won control of parliament in December from the ruling Socialists for the first time in 16 years.
Opposition leaders accused Maduro of using the emergency decree to destabilize the country and block them from organizing a referendum on removing him from office. It has launched the process by collecting 1.8 million signatures in favor of a recall vote.
Supporters of opposition groups demonstrated simultaneously on Saturday.
"If this state of emergency is issued without consulting the National Assembly, we would technically be talking about a self-coup," Democratic Unity coalition leader Jesus Torrealba told supporters.
Foreign interference
Maduro's comments come as US newspaper the Washington Post cited senior US intelligence officials saying Maduro's government could be overthrown in a popular uprising this year: "You can hear the ice cracking, a crisis is coming," the official was quoted as saying.
Maduro said Friday that a plot against his government was being "activated in Washington" and was being driven by the "fascist Venezuelan right, emboldened by the coup d'etat in Brazil." This was in reference to the impeachment proceedings against suspended leftist president Dilma Rousseff.
Washington has had a poor relationship with Caracas since Maduro's late predecessor, Hugo Chavez, came to power in 1999.
Ex-Colombian President Alvaro Uribe said last week that Venezuela's opposition may need protection from outside armed forces. Maduro pledged legal action against Uribe Saturday, without giving details.
Crisis beckons
Maduro - a former union leader and bus driver - first decreed 60-day emergency powers order on January 14, a move he extended again in March.
"We must take all measures to recover productive capacity, which is being paralyzed by the bourgeoisie," he said Saturday.
"Anyone who wants to halt (production) to sabotage the country should get out, and those who do must be handcuffed and sent to the PGV (Venezuelan General Penitentiary)."
The country's largest food and beverage firm, Polar Group, halted production of beer on April 30, saying government mismanagement made it unable to import barley.
Economic problems
Venezuela has the world's largest oil reserves, but faces a crippling recession that has been accentuated by an electricity crisis, with daily power cuts across most of the country, schools closed and a cut in the working week to two days for government employees.
Maduro blames US and local business interests for what his administration calls an "economic war" on oil-dependent Venezuela, whose economy fell 5.7 percent in 2015.
jbh/jm (AFP, Reuters)