Chirac and Merkel inspected troops from a joint French and German army unit before, in a break with tradition, the chancellor made a speech in his honor outside the chancellery.

Thanking him for the "long years of cooperation between our two countries," Merkel said 74-year-old Chirac "had constantly been aware that Franco-German cooperation always needed dynamism."

Chirac, she recalled, had been the first foreign head of state to give a speech to the unified German parliament in the restored Reichstag building in 2000.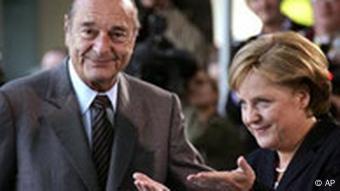 Chirac and Merkel have had a good relationship
"Long live the friendship between Germany and France," the chancellor said.

Chirac, making his 32nd visit to Germany in 12 years as president, said: "It is both very important and symbolic that my last official visit should be to Germany."

EU "motor"

Germany and France are often called the "motor" of the European Union and Berlin is expected to be one of the first foreign ports of call for either the center-right Nicolas Sarkozy or the Socialist candidate Segolene Royal following the second round of the French presidential election on Sunday.

Merkel will want to hear the views of the new president on how France, whose voters rejected the draft EU constitution in a 2005 referendum, proposes to break the impasse.

Chirac said France and Germany must take the lead in Europe on issues such as the constitution and the pressing issue of climate change. "We must do all of that together or it will not be done well," he said.

Germany holds the rotating EU presidency until the end of June. Chirac leaves the Elysee Palace on May 16, making way for le nouveau président or la nouvelle présidente.