The sunny landscape of the Provence in southern France is perhaps best known for inspiring post-impressionist painters such as Vincent van Gogh and Paul Gauguin. But what was little known until recently is a dark episode in this pictururesque region: Over 10,000 so-called "foreign enemies" were interned in a camp at Les Milles near Aix-en-Provence during World War II.
At the start of the war all Germans and Austrians living in France were treated as enemies, regardless of whether they were for or against Adolf Hitler. This made for strange bedfellows in the converted tile factory that served as a camp. A few Nazis were thrown together with anti-fascist exiles who had fled to France from Hitler's Germany in the 1930s.
"The criterium at the beginning of the war was not (whether one was) Nazi or not Nazi. It was the war, so all the people coming from the enemy countries were interned. It was very bureaucratic, very stupid in fact, because 90% of these people were friends of democratic France," said Alain Chouraqui, president of the Camp des Milles foundation.
Famous German artists interned
What distinguished Camp des Milles from other French camps was the high concentration of inmates who were prominent German artists and intellectuals. Among them were surrealist artists Max Ernst and Hans Bellmer, the historian Golo Mann and many other painters, sculptors, writers, actors and musicians. Some of the exiles were also German Jews such as the Nobel-prize winning physician Otto Meyerhof and the novelist Lion Feuchtwanger, who had chronicled his own experiences at Camp des Milles in the memoir "The Devil in France".
Numerous artists had contributed to the richness of the cultural life at Les Milles and left traces that are still being uncovered in the renovation process. Although camp conditions were wretched, Les Milles was not a work camp and the inmates were free to express themselves artistically.
Theater in a former kiln
In a former kiln used for firing terracotta pantiles that are so ubiquitous on the rooftops of Provence, the actors and singers among the inmates staged their own plays and musicals to stave off boredom. They had named their makeshift theatre "Die Katakombe"-- the catacombs in German-- after a cabaret in pre-war Berlin that had been shut down by the Nazis for its political cheekiness and "depravity".
An ancient Greek tragic/comic mask etched on a beam marks the entrance to the 'catacombs' where performances, such as Goethe's Faust, were held by candlelight. Stacking bricks on top of each other, the inmates had built a stage with an orchestra pit and rows of seats for the audience.
Besides live theatre and music, an abundance of art was also produced. Art supplies as well as musical instruments and reading material were donated to the inmates by the YMCA and other war relief organisations that worked in the shadows. A few hundred paintings and drawings believed to have originated from Les Milles, had apparently been smuggled out by those fortunate enough to emigrate. What remains are icons and graffiti etched on the walls: a bouquet of hearts, another one of bluebells, a pineapple, the star of David and messages to a lover or spouse.
Murals in the guards' dining hall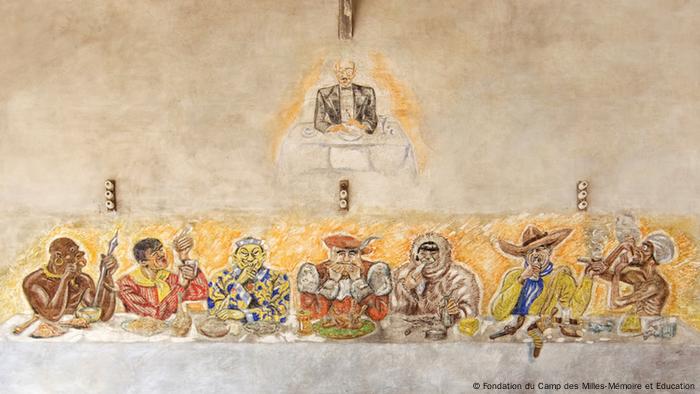 A mural that satirises "The Last Supper" was painted by Karl Bodek, an artist who was deported to Auschwitz.
The burst of creativity is on display in the guards' dining hall in particular. One mural contains the ironic message: "Si vos assiettes ne sont pas très garnis-- Puissent nos dessins vous calmer l'appetit" (If your plates are not very full, let our drawings calm the appetite). The inmates never had enough to eat or drink, but painted humourous frescos depicting food and wine in abundance.
Another mural titled 'Banquet of Nations' is an amusing satire of the Last Supper depicting a cowboy, eskimo and other characters gorging themselves on the stereotypical national fare of their country. The artwork was attributed to Karl Bodek, who was eventually deported to Auschwitz.
It was when these murals were threatened with destruction nearly 30 years ago that Alain Chouraqui first discovered the existence of Camp des Milles. This also coincided with a time in the early 1980s when the far right National Front party was gaining momentum in France.
"We decided to fight to preserve this camp, since we understood that this camp was in fact the last one preserved in France. The question of identity, racism, anti-Semitism are still .very active and dangerous, and we want to show people how far it can lead societies," said Chouraqui.
Two faces of France
During the war, there were two faces of France: The heroism of resistance fighters and the brutality of the Vichy regime in the so-called Free French zone in the south.
"It was difficult for the French memory to look at this history. We were interested in showing that the bad people were not only the Germans or Nazis, but they were French. It is the human being who can be so awful, so cruel. Or so the human being can be great," he added.
The numerous exhibits at Les Milles focus on acts of moral courage. There's the French camp commander who had ordered a freight car to transport endangered dissidents to the Spanish border. The American journalist Varian Fry ran a rescue operation that helped countless anti-Nazis and Jews escape the Holocaust, among them Hannah Arendt, Marc Chagall, Max Ernst, Golo and Heinrich Mann, Lion Feuchtwanger and Max Ophüls.
Moral courage and resistance
Fry and other volunteers had smuggled out over 2,000 refugees through neutral Spain and Portugal, from where they were able to board ships to the United States. The American vice-consul Hiram Bingham had worked with Fry to save lives by issuing illegal visas against US government policy, an act of defiance that cost him his job. One security guard Auguste Boyer was suspended from his job for smuggling out a handful of Jewish children from Les Milles and sheltering them in his home.
We want to show in this place how many people, unknown people, helped other people and show the example of resistance. "Chacun peut resister, chacun peut reagir, chacun à sa manière." That means everybody can act at his level in small way," said Chouraqui, who added that it was also possible to help others without facing any consequences.
"For instance when a policeman looks away when a child wants to escape or when a bureaucrat "forgets" one sheet of paper with the name of someone to be arrested. The risk is minimal and one can save a life," he explained.
During the three years of its existence, Camp des Milles was mainly a transit camp for refugees waiting for their exit visas, but by the summer of 1942, there were only Jews left. Over 2,000 men, women and children were deported from Les Milles to Auschwitz under French Vichy authority. In November, all of France was under German Nazi occupation and the camp was turned into a munitions depot for the remainder of the war.