A spectacular Nürburgring lap by Timo Bernhard set the fastest time on the legendary German track on Friday, clocking a 5:19.55 and smashing the 35-year-old record set by the late Stefan Bellof in 1983. With the world's fastest race cars no longer competing on the Nürburgring's narrow and bumpy Nordschleife circuit for safety reasons, Bellof's 6:11.13 run was believed to be virtually unbeatable.
Reporter and racer Andrew Frankel tweeted a video of Bernhard from the scene.
Bernhard set his lap time driving a Porsche 919 Evo, managing an average speed of some 234.3 km/h (145.6 miles per hour) around the 20.832-kilometer track. The V4 turbo-charged hybrid engine can develop a maximum of 1,160 horsepower, according to Germany's Motorsport-Total magazine.
"It was incredibly fast and incredibly taxing, but also with a lot of adrenaline," Bernhard said after the run, while also honoring the previous record holder, "my idol" Stefan Bellof.
The 37-year-old Bernhard is a well-known fan of the Bellof, even racing with a replica of Bellof's helmet as a tribute in 2015.
Bellof set his record during a 1000-kilometer race in 1983, when he was only 25 years old. The young driver drove a Porsche 956 with an engine delivering 620 horsepower. Two years later, Bellof lost his life in a racing accident in his Porsche at Spa Francorchamps in Belgium.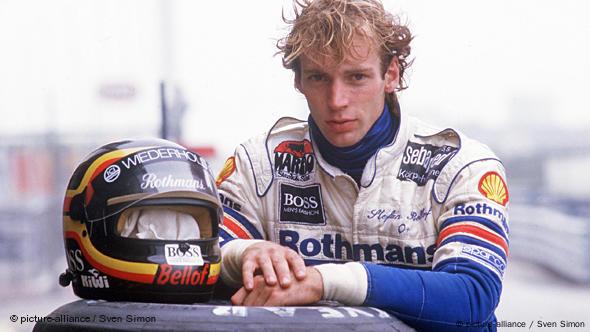 Bellof crashed while trying to overtake a Porshe teammate at Eau Rouge corner of Spa Francorchamps' race track
Read more: Remembering Stefan Bellof, German motorsport's 'wild horse'
While no longer the fastest time ever, Bellof's lap will remain the fastest in an actual racing competition on the daunting track in northwest Germany. The Nürburgring opened its safer "GP Circuit" in 1984, which has since been used for F1 and Le Mans series racing.
Porsche returned to the World Endurance Championship in 2014, reviving the winning ways of the 1980s with drivers like Bellof, Jackie Ickx and Graham Bell. The new generation Porsche LMP1 car won Le Mans in 2015, 2016 and 2017. But the German manufacturer pulled out of the championship at the end of the 2017 season, with Friday's Nordschleife test run serving as a kind of farewell for their modern-era car.