"Political war," "a stab in the back," "chaos in the administration" - the Fatherland party, the biggest group in the Ukrainian parliament, responded with strong words on Friday (25.07.2014) to the latest political developments in Kyiv. On Thursday, after about five months in office, the governing coalition collapsed. It was formed in late February after massive opposition protests ousted the then-President Viktor Yanukovych.
Countdown to new elections
The crisis was triggered after two parties opted to leave the governing coalition: the UDAR (Punch) party, led by Kyiv mayor and former boxing champion Vitali Klitschko, and the right-wing nationalist party Svoboda (Freedom).
A further 30 MPs also left the coalition, including nine from the Fatherland party. The parliament had previously failed to reach an agreement on budget cuts - savings that were to be used to finance the army. According to Finance Minister Oleksandr Shlapak, that means there will be no money going to the soldiers fighting pro-Russian separatists in eastern Ukraine after August 1.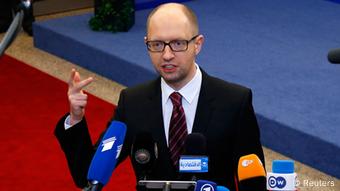 Stepping down: Prime Minister Arseniy Yatsenyuk
Prime Minister Arseniy Yatsenyuk tended his resignation on the same day. It's not yet clear who will now lead the government. The parliament has retired until mid-August, without having voted to accept Yatsenyuk's resignation, so the 40-year-old will technically remain in office until a replacement prime minister is installed.
Now Ukraine is preparing for an early vote. If a new coalition isn't formed within 30 days, President Petro Poroshenko could call for new parliamentary elections. October 26 is one possible polling day being considered.
No big news
These latest events come as no surprise to the people of Ukraine. Calls for new elections have been getting louder and louder in recent weeks. As early as winter, the opposition movement demanded a "full reboot" of Ukrainian politics. Since May, Ukraine has had a new president in Poroshenko, but an old parliament. Many call it a "disgrace," because the parliament elected in 2012 was widely discredited during the protests. The laws they adopted in January, as part of an attempt to restrict civil liberties, will not be easily forgotten.
Poroshenko also promised to hold an early vote during his election campaign, and it would be in his interests to do so. Ukraine is a parliamentary democracy - the head of government has more power than the president.
Poroshenko was dependent on cooperation with Yatsenyuk and, therefore, also on his strongest political opponent, former Prime Minister Yulia Tymoshenko. Yatsenyuk is a member of Tymoshenko's Fatherland party. Oleksandr Turchynov, the Chairman of Ukraine's parliament, is also a member of Tymoshenko's party.
Poroshenko, on the other hand, doesn't have his own party in the parliament. His closest ally is Klitschko's UDAR, which, with just 41 sitting MPs, has fewer elected representatives than Tymoshenko's Fatherland.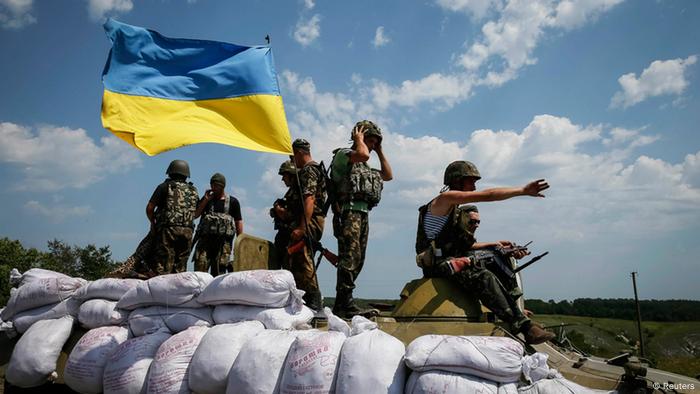 No money for Ukraine's soldiers after August?
Building a power base
In view of this state of affairs, the power struggle between Poroshenko and Yatsenyuk seemed inevitable. Until now, the West's support for Yatsenyuk had prevented speculation in Kyiv. Yatsenyuk's government - which he himself described as "Kamikaze," given the problems when he entered office - has survived longer than many had expected.
Together with billions in Western aid, he has managed to keep the situation in Ukraine relatively stable. Pensions and salaries were paid, inflation - at 3.8 percent in May - was kept under control. Even the Ukrainian army has reported some successes in the fight against separatists in the east.
"Poroshenko wants to hold an early election to strengthen his own parliamentary base," Ukraine expert Winfried Schneider-Deters told DW. The commentator says fresh elections are crucial, even if the events leading up to them leave a "bad taste in one's mouth."
"The way President Poroshenko let UDAR act was perfidious," he added.
The Ukrainian president should benefit from new elections. His party Solidarnist (Solidarity), which previously only existed on paper, is considered one of the favorites.
"Poroshenko's party will be the biggest winner," Kyiv-based political strategist Jaroslav Makitra told DW.
Harmful consequences
But such political maneuvering isn't without its risks. The influential Kyiv-based journalist Vitaly Portnikov describes the "weakening of the head of government in times of war" as a "political crime." Speaking on the public television channel Hromadske TV, Portnikov said the army operations in Eastern Ukraine, as well as the ratification of the Association Agreement with the EU, had been put at risk.
The EU agreement was the reason hundreds of thousands of Ukrainians protested in Kyiv's independence square, and if it's not ratified soon, there's a chance Ukraine will miss out, says Portnikov.
It's unclear how power will be distributed in the new parliament. Tymoshenko's popularity has fallen, but the possibility of a comeback cannot be ruled out. In that case, the power struggle between Tymoshenko and Poroshenko is likely to continue, and Ukraine will only get weaker.