Vatican spokesman Reverend Federico Lombardi has said that Pope Benedict XVI was "available for new meetings" with victims of sex abuse by Catholic priests, insisting such a move was "the only way to regain trust" in Catholic communities around the world.
"This is the only way to restore a climate of justice and full confidence in the institution of the church," Lombardi said, adding that "transparency and rigor impose themselves as urgent requirements."
Lombardi also said the Catholic Church must "pursue cooperation with the relevant civilian judicial and penal authorities, in line with the legal and other situations in each country."
The Catholic Church has been rocked by a series of sexual abuse scandals involving priests and altar boys in a raft of countries including Ireland, Austria, the United States, Canada and the pope's native Germany.
Benedict has already met victims of sexual abuse by priests during his visits to the US and Australia.
Senior clerics within the church have been accused of covering up the incidents and protecting guilty clergy by moving them to other parishes rather than reporting the cases to police.
The Vatican has been criticized in the way it has responded to allegations that Pope Benedict may have not done enough when he was a bishop in Germany to address abuse cases. The Vatican has accused the media of waging a "despicable campaign of defamation."
Instead of engaging in dialog, critics have said, the Vatican has been defensive and adopted a siege mentality that has done little for it in the court of public opinion.
This latest move might be seen as a change in strategy for the church.
Fresh allegations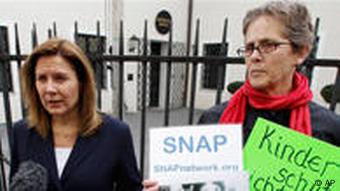 Hundreds of cases of sexual abuse by the clergy have surfaced
Coinciding with Friday's Vatican announcement, new accusations of misconduct by priests have come to light in Germany and Norway.
A diocese in the central German city of Erfurt says it has passed on to prosecutors details of a case involving a priest suspected of sexually abusing four children between 1980 and 1996.
The diocese said the man had been suspended from his position pending the conclusion of the investigation by prosecutors and the church.
Meanwhile, in Norway, the church said it had been made aware of four more potential cases involving sexual misconduct by members of the clergy.
The head of the Catholic Church in Norway, Bishop Bernt Eidsvig, said two cases were believed to have occurred in the 1950s and involved members of the clergy who had since passed away.
The second pair of allegations were more speculative, with one case said to involve a priest who had since left Norway, and the second case to be based largely on hearsay.
dfm/Reuters/AP/DPA
Editor: Kyle James