Marx, 54, is also head of the committee for social issues at the German Bishops' Conference. He will be succeeding the 79-year-old Archbishop Friedrich Wetter, who retired last February due to his advanced age, but has stayed in office until his replacement takes over.
The Munich archdiocese numbers around 2 million Catholics and is considered one of the most important one in Germany. Pope Benedict XVI was himself the archbishop of Munich before moving to Rome to head the Congregation for the Doctrine of the Faith in 1981.
Bavarian Premier Günther Beckstein, who is a member of the Christian Social Union (CSU) -- sister party to Angela Merkel's Christian Democrats (CDU) -- welcomed Marx' appointment and described him as a "highly convincing and principled man of the cloth who is, at the same time, eager to debate and humorous."
A socially outspoken clergyman
Considered conservative in terms of the Catholic doctrine, Marx has been outspoken on social issues, demanding from German politicians to act against poverty, create jobs and accept refugees.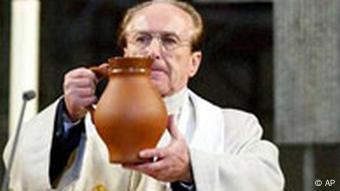 Gotthold Hasenhüttl was suspended of his priesthood in 2003
While numerous church officials in Germany welcomed Marx' appointment, praising his personal and professional qualities, theologian Gotthold Hasenhüttl criticized Marx for "trying with all means to pursue a totally reactionary line in the Catholic Church."
Marx' main idea was "that people are there for the intuition of the church, and not the other way around," Hasenhüttl told the Saarländischer Rundfunk radio.
Hasenhüttl was stripped of his priesthood by Marx in 2003 after he invited Protestants to take part in the Catholic Eucharist during the Ecumenical Church Day despite the Vatican's explicit prohibition of intercommunion.
The pope lashes out at atheism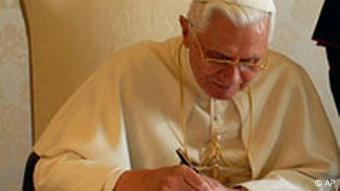 Benedict XVI strongly criticized modern-day atheism in his second enclytical
Meanwhile, Pope Benedict XVI on Friday issued the second encyclical of his pontificate, using the story of St. Josephine Bakhita (1869-1947) -- a former slave and later Catholic nun and saint from Darfur, Sudan -- to illustrate the theme of Christian hope.
"Let us put it very simply: man needs God, otherwise he remains without hope," Benedict wrote in the 70-page document, entitled in Latin "Spe Salvi Facti Sumus" (In Hope We Are Saved).
The pope warned against what he sees as false hope based on "faith in progress," tracing its origins to the French Revolution and later, the Communist ideology inspired by Karl Marx (not related to Munich's new archbishop), who "forgot man and forgot man's freedom."
Marxism, the pope wrote, had left behind "a trail of appalling destruction" because it failed to realize that man could not be "merely the product of economic conditions."
Italy's Union of Atheists, Agnostics and Rationalists (UAAR) criticized the pope for lashing out at atheists.
"The existence of a billion non-believers in the world should be enough to make the pope understand that man can live very well without God, but with reason," the UAAR said in a statement.