Under heavy security at a hotel outside Hannover, guests included Turkish Prime Minister Recep Tayyip Erdogan and German Foreign Minister Frank Walter Steinmeier.
The newspaper, Bild am Sonntag reported Steinmeier gave the former chancellor red wine and crabs for the whole family.
He wished his former boss a happy birthday and told him to, "stay healthy and burning for action. We need you."
Rock singer and Scorpions frontman Klaus Meine was also among the some 200 names on the guest list.
Schroeder will have to wait another two years though before he can officially retire -- thanks to a change in law that he pushed for as chancellor. The German Bundestag, however, only voted to raise the retirement age from 65 to 67 in March 2007. Schroeder gave up his post in 2005.
Party no-shows
Good friends former French President Jacques Chirac and Russian Prime Minister Vladimir Putin were tipped to attend but appeared not to have turned up for the event.
Schroeder's close ties to Russia's Putin came in for scrutiny
During their time at the top of their respective countries, Schroeder and Putin developed a close relationship, as they attempted to strengthen the partnership between Berlin and Moscow. Most controversial was their agreement to build the $4.7 billion gas pipeline through the Baltic Sea, bypassing traditional European transit nations.
The agreement to build the pipeline was signed two weeks before the 2005 German parliamentary election.
Soon after, Schroeder was made board chairman of the Russian energy company Gazprom, which is taking part in the pipeline project. Opposition politicians denounced the appointment as a conflict of interest.
His political career
Schroeder launched his political career first as chairman of the youth organization of the Social Democratic Party (SPD) and then as a member of the Bundestag. He then turned his attention to the state of Lower Saxony, where he was appointed premier in 1990 and remained until 1998.
As the SPD's main candidate in federal elections he became chancellor on Oct. 27, 1998, ousting Helmut Kohl, Germany's longest-serving chancellor since Bismarck.
During his seven years at the top, Schroeder is remembered for introducing gay marriage, agreeing to phase out nuclear power and for increasing the country's role on the international stage, with military participation abroad. He was a loud critic of former US President George W. Bush, comparing him to Julius Caesar and the war in Iraq.
Schroeder's education ladder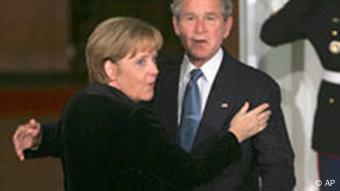 It's unlikely Schroeder will get a birthday hug from former US President Bush
Gerhard Fritz Kurt Schroeder was born on April 7, 1944 in Mossenberg - a small village in North Rhine-Westphalia that today has a population of just under 300.
Schroeder never knew his father, a soldier, had fell ill while fighting in Romania - and died just a few months after the birth of his son. His mother, who Schroeder affectionately calls the "lioness," worked multiple cleaning jobs at once and in factories to feed her five children.
Schroder left school at 14 to complete an apprenticeship at a hardware store. He then worked on building sights before attending night classes to gain his A-levels. He graduated from the University of Goettingen with a law degree in 1971. He worked as a lawyer until 1990.
The colorful personal side of "Audi Man"
Over the years, the personal life of "Gerd" has been well-documented in the German media. It began with his first of four marriages to childhood sweetheart, librarian Eva Schubach. They divorced three years later, as his political career gained momentum. A year later, he married political activist, Anne Taschenmacher.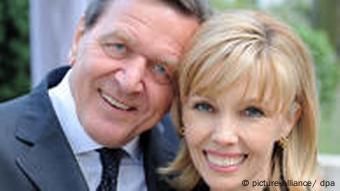 Doris Schroeder-Koepf: Schroeder's fourth (and final?) wife
When that marriage didn't survive, Schroeder wedded wife number three: Hiltrud Hampel, in 1984. They became Germany's first celebrity political couple, wooing the German public and producing plenty of material for the gossip magazines. Hampel, an environmentalist once brought a bat with a broken wing into his office, ordering the up and coming politician to immediately introduce a state law to protect the species.
Schroeder later began an affair with Doris Koepf and in 1998 married the woman who is 20 years his junior.
But his eventful personal life didn't just catch the attention of the tabloids. During election campaigns, the opposition produced T-shirts reading: "Three women can't be wrong" and even got Hampel onside to announce on camera, "I left my husband, you can do it too."