Michel Platini, head of UEFA, announced that Warsaw, Gdansk, Wroclaw and Poznan will host games for the European Championships in 2012, while the two reserve cities, Krakow and Chorzow, were scratched from the listings.
Ukraine's capital, Kyiv, was the country's only city to be confirmed to co-host the Euro 2012. It will host group matches, quarterfinal matches and a semifinal. But UEFA warned Ukraine that Kyiv would be stripped of the final unless significant improvements on the city's Olympic Stadium, airport, infrastructure and hotels are made by Nov. 30 this year.
Three other cities in Ukraine – Lviv, Donetsk and Kharkiv – also have until Nov. 30 to prove they can make the massive upgrades to roads, airports, stadiums and hotels necessary to host matches.
"We've clearly set out the conditions Ukrainian cities must fulfill before Nov. 30 to host Euro 2012," UEFA president Michel Platini told reporters in Bucharest.
"We would like for the executive committee to have an equal division of cities between Poland and Ukraine. If Ukrainian cities cannot fulfill the conditions by November 30, we will organize Euro 2012 with four Polish cities and the two best prepared Ukrainian cities," he said.
Ukraine reads between the lines
Ukrainian officials remained upbeat despite UEFA's decision. Preparations for the tournament have been plagued by bureaucracy, legal wrangling and disorganization.
"We are assuming that cities will be distributed between Ukraine and Poland on a parity basis and that by [Nov.] 30 ... three more Ukrainian cities will be placed on the schedule of preparations for Euro," Ukraine's prime minister, Yulia Tymoshenko, said.
"So four cities from Ukraine and four from Poland will host Euro 2012," she said.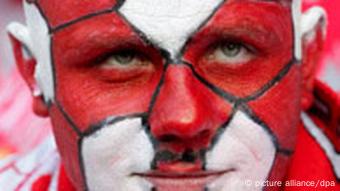 Polish supporters will be out in force when they host the games in 2012, even if not in Krakow
Krakow, a historic city in southern Poland and seen as a strong contender to host the tournament, was deeply disappointed with UEFA's decision.
"This decision saddens me. I do not understand it. In the latest [UEFA] report Krakow was clearly the best prepared city. I'm happy the government upholds its commitment to investments," Krakow's mayor, Jacek Majchrowski said.
Meanwhile, UEFA's Platini said although Krakow and Chorzow had done good work preparing for the tournament, the decision had been made to go with the original favorites, as their preparations were going well.