German authorities have swooped on a group suspected of fixing top-level European soccer matches. The arrests were part of an ongoing investigation into suspected bribery at the highest levels in soccer in Europe.
Public prosecutors in the German city of Bochum said an investigation into the bribery ring had been underway since the beginning of this year, and was conducted with the support of soccer's governing body in Europe, UEFA.
Those arrested are suspected of using cash to bribe players, coaches, referees and officials in "high-ranking European leagues" with the aim to profit from fixed match results through betting syndicates.
German daily Berliner Morgenpost reported that the central figures in the match-fixing ring were believed to be based in the German capital Berlin, and were suspected of involvement in a prior soccer match manipulation scandal centered on former referee Robert Hoyzer.
The Bochum public prosecutors office and UEFA officials said they would give a press conference on the arrests from Bochum on Friday.
Referee scandal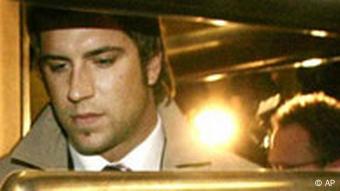 Robert Hoyzer was disgraced and banned from soccer
In 2005 German soccer was engulfed in scandal when it was revealed referee Robert Hoyzer had placed a bet on a German Cup game he was to referee between Bundesliga club Hamburg SV and regional team Paderborn.
Hoyzer made several questionable refereeing decisions during the match, including awarding two penalties which eventually helped Paderborn reverse a 2-0 deficit to win 4-2.
Hoyzer later admitted to the match-fixing allegations and was later connected with Croat organized crime syndicates. Hoyzer was sentenced to around two and half years in prison and banned from soccer as a result.
dfm/AP/dpa
Editor: Trinity Hartman