Alongside survivors, the presidents of Poland and Israel, Lech Kaczysnki and Shimon Peres, paid tribute to Jews who took part in the Warsaw Ghetto Uprising 65 years ago.
"They lost the battle, but from history's point of view there never was a greater victory, a victory of humanity over human bestiality," said Peres at the Warsaw memorial to the heroes of the uprising.
On April 19, 1943, Jewish resistance groups revolted against units of the German army and the SS as they attempted to clear Jews from the quarters they had been confined to in the Polish city. Most of the Jews involved were killed, but the rebellion marked a symbolic stand against the Holocaust.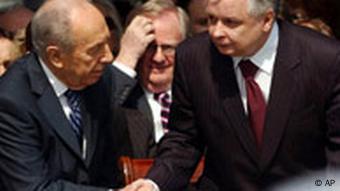 Peres and Kaczynski paid tribute to heroes and victims
Polish President Kaczysnki said many acts of heroism had taken place during World War II, "but among them the insurrection of the Warsaw ghetto is exceptional. The soldiers fought not for victory but for honor."
Over 200 mainly young Jews fought the Germans for nearly a month. Around 7,000 Jews were killed during the uprising and 43,000 deported to Treblinka concentration camp. Marek Edelman, one of the leaders of the revolt, was among the few who managed to escape.

Symbol against Nazism

Edelman was decorated with the French Legion of Honor by French Foreign Minister Bernard Kouchner on Tuesday. He was not present at the official ceremonies, which he has also shunned in the past, rejecting being glorified. He plans to commemorate his friends at the Warsaw Uprising memorial on Saturday, the date the uprising started.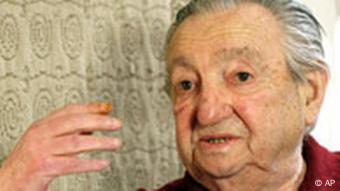 Edelman is the last-surviving leader of the uprising
"We knew perfectly well that there was no way we could win," Edelman told news agency AFP. "It was a symbol of the fight for freedom. A symbol of standing up to Nazism, and of not giving in."
After German troops occupied Poland in 1939, the Nazis set up ghettos in many Polish towns and forced the Jewish population to live in the cramped areas before they were killed. At its worst, 450,000 people lived in the Warsaw ghetto.
Before World War II, 3.5 million Jews lived in Poland, 400,000 in Warsaw alone. Half of the six million Jews killed in the Holocaust were Polish.
In deference to religious Jews, the official commemorative ceremonies were held on Tuesday, since the anniversary falls on the Jewish Sabbath.