Prime Minister Kazimierz Marcinkiewicz attacked the article in the Tageszeitung daily as "disgusting."
"It's hard to imagine that someone in Poland could publish similar comments about other heads of state. A reaction is necessary," he stormed.
Andrzej Krawczyk, an official in Kaczynski's office, said he was in touch with German Chancellor Angela Merkel's officials over the article.
"We expect criticism ... a rejection of articles of this type about the head of a state that is a friend of Germany," Krawczyk said, adding: "We have outlined and transmitted our position on this article: astonishment, indignation and disgust."
Polish Foreign Minister Anna Fotyga said that the "lack of reaction from Germany's principal politicians is disturbing."
"Never before, even in press attacks on Saddam Hussein or (Belarus) President Alexander Lukashenko, have we had to deal with an attack on such a scale and using such language," Fotyga added.
Tradition of disrespect
The Tageszeitung daily, which is close to Germany's opposition Greens party and anti-globalisation groups and which is known for its lack of reserve in voicing opinions, published an article June 26 headlined "The Polish new potatoes" as part of a series entitled "Rogues who want to rule the world."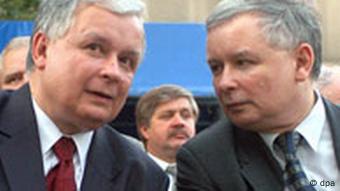 The Kaczynski brothers
At one point, in a comment loaded with innuendo, the article referred both to President Kaczynski, who in his previous post as mayor of Warsaw banned gay parades in 2004 and 2005, and his twin brother Jaroslaw, head of Poland's ruling, conservative Law and Justice party.
"The two have proved that they are clean both in front and behind: Lech, who several times forbade men in Warsaw from showing their behind, and especially Jaroslaw, who lives with his mother," the article said.