Matthias Platzeck, premier of the eastern German state of Brandenburg, agreed to take over the SPD party leadership after meeting with a rival for the post, Kurt Beck, the premier of Rhineland-Palatinate.
Beck said he was supporting Platzeck, who in turn said he had received the backing of all of the party's regional groups.
Platzeck, 51, said he would combine the party leadership with his functions as state premier in the eastern German state of Brandenburg. As he governs with a grand coalition of SPD and CDU in his state, he is also well prepared to take part in grand coalition talks on the national level.
Should I stay or should I go?
They will work together, after all: Merkel (left) and Müntefering
Müntefering, 65, lost an internal party power struggle and said he would not seek to become leader again when the party holds an extraordinary congress in Karlsruhe on Nov. 14-16.
He will, however, serve as vice-chancellor and labor minister in the next cabinet, should a grand coalition become reality. Bavarian Premier Edmund Stoiber meanwhile announced that he will not come to Berlin to serve as economics minister and instead stay in Munich.
Platzeck, who is close to outgoing Chancellor Gerhard Schröder, was likely to be ratified as leader when the party leadership meets on Wednesday afternoon. He would become the first SPD leader from the former East Germany.
Healing the wounds
SPD is hoping that the party leadership storm is now over
Many observers and SPD insiders see Platzeck as the best candidate to bridge the ever widening rift between the SPD left-wing and centrist factions and help revitalize the party along the way.
"We agreed that we should really use the chance, which is hidden in this crisis, for a visible and energetic rejuvenation," said parliament vice-president Wolfgang Thierse (SPD).
"It is a great honor for me," Platzeck told reporters, adding that his appointment would not disallow Müntefering from becoming vice-chancellor in a Merkel-led government.
"We want negotiations on building a government to move ahead swiftly," Platzeck said.
More trouble for Angela?
Merkel sought to downplay the impact the turmoil in the SPD may have on the coalition, saying:
"As leader of the CDU (Christian Democratic Union), I have lived through worse situations," she said. "I sense a desire in the SPD to continue the talks on forming a grand coalition. Based on that, I am still assuming we can bring these talks to a successful conclusion."
But leading conservatives said that the already daunting task of arranging an improbable pairing of Germany's two biggest political rivals -- last tried in the 1960s -- had become incalculably more difficult.
"At the moment, we cannot say whether there will, or will not, be a grand coalition," CDU deputy leader Jürgen Rüttgers told public television."The SPD must now say what it wants."
Sigmar Gabriel as secretary general?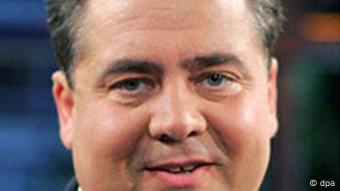 Sigmar Gabriel: the next SPD secretary general?
Müntefering's bombshell resignation on Monday came after his hand-picked candidate for SPD general secretary lost a vote with the party's board to maverick left-winger Andrea Nahles.
Recognizing the political tornado she had wrought, Nahles, 35, told German radio she would consider withdrawing her candidacy when it is voted on at a party congress in two weeks.
Political analysts said Platzeck was unlikely to want Nahles on his team, and the name of Sigmar Gabriel, 46, the likely environment minister in the coalition government was circulating late Tuesday as a possible candidate to fill the secretary general's position.
The more conservative circles in the SPD are also staunch opponents of Nahles' nomination.
"I think it would be absurd to reward somebody for regicide, for being stubborn and throwing the party into a crisis," said Johannes Kahrs, an SPD parliamentarian from the party's right wing.