A German cargo ship seized by Somali pirates off the coast of Kenya is now free, according the vessel's owners.
Verena Beckhusen, spokeswoman for the Bremen-based shipping company Beluga-Reederei, said the cargo ship Beluga Fortune was free Monday, a day after being taken hostage in the Indian Ocean, some 1,200 miles (1,930 kilometers) east of Mombasa, Kenya.
The ship and its crew, including two German citizens, were continuing their planned journey to South Africa, Beckhusen said. No crew members were injured, and the ship sustained only minor damage.
Pirates had already given up
Pirates had already left the ship by the time British frigate Montrose arrived at the scene Monday after steaming 15 hours to Beluga Fortune's aid. All 16 crewmembers were safe, the Beluga shipping company told the newspaper Weser Kurier.
The Beluga Fortune is now a success story of German shipping companies' standard procedures of shutting down all power and hiding the crew when a ship is attacked.
The ship's crew radioed at 7 a.m. on Sunday that pirates were attempting to board. They then immediately stopped the engine, blocked the fuel line and switched off all systems on the bridge - making it impossible for the pirates to move the ship.
"The cool-headed behavior ... of the Beluga crew on board and the quick action of navy units ... left the pirates no other option than to give up their dream of a million [-euro] ransom and to flee," Beluga Shipping said in a statement.
Beluga Shipping's executive partner Niels Stolberg stressed that the crew's training in handling stressful situations such as pirate takeovers had paid off.
"Our precautions and concentrated training of the crew worked out very well," Stolberg said, adding, "Our colleagues on board have gotten off lightly from this attack and have escaped with no more than a fright."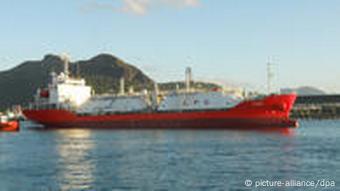 The Greek-owned gas tanker York remains in pirate hands
Somali pirates a continued threat
Germany's Foreign Office reacted to the news on Monday, saying that the fight against Somali pirate attacks had to address the "roots of piracy." The ministry called for support for the Somali interim government to train security forces.
The Greek-owned ship York meanwhile remains in the hands of Somali pirates. The flag, captained by a German citizen under a Singapore flag, was taken by pirates on Saturday off the Kenyan coast.
So far this year, pirates have boarded at least 130 ships and fired at over 50.
Author: David Levitz (AFP, dpa, Reuters)
Editor: Chuck Penfold