A man in a shirt blowing in the wind paddles into the sunset - on clouds. That's what the cover of Pink Floyd's new album looks like, and the image was enough to unleash plenty of snarky remarks. Fans and critics asked what the designer was on when he came up with the cover and reminisced about the brilliant designs on earlier releases by the band. With such a kitschy cover, people were worried that the music would follow its lead.
Ahead of the official album release this week, there was a little sneak preview of about 30 seconds. The snippet immediately sounds like something that didn't fit on "Dark Side of the Moon." And that's not so far-fetched, given that the new release draws on musical fragments from an earlier Pink Floyd era. More specifically, it consists of leftovers from the recording sessions for the band's last studio album in 1994: "The Division Bell."
Guitarist David Gilmour says the band listened through 20 hours of material that they found so "beautiful" and "magical" that they wanted to use it again - and so they did, adding a little more spice thanks to modern studio techniques and equipment.
In recording "The Division Bell," Gilmour was joined by drummer Nick Mason and keyboardist Rick Wright, who died in 2008. Pink Floyd's fourth original member, bassist Roger Waters, dropped out of the group in 1985 and has not reunited with his former bandmates after a series of disputes. Waters didn't participate in the sessions for the 1994 album, and cannot be heard on this release either.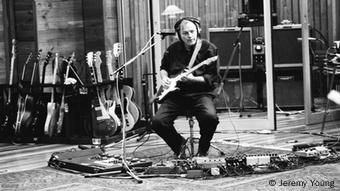 David Gilmour, pictured in a 1993 recording session
Waters: 'Nothing to do with it'
"The Endless River" isn't intended as a way of merely using up old material. Instead, the band says it's homage to Rick Wright, a nod to bygone times as well as the band's final farewell from the music business.
Wouldn't that be the perfect moment for a Pink Floyd reunion - including Roger Waters? It's a question that sends him into a fit. In September, he vented his frustrations on his Facebook page:
"I don't have an album coming out. David Gilmour and Nick Mason have an album coming out. It's called 'Endless River.' David and Nick constitute the group Pink Floyd. I on the other hand, am not part of Pink Floyd. I left Pink Floyd in 1985. That's 29 years ago. I had nothing to do with either of the Pink Floyd studio albums, 'Momentary Lapse of Reason' and 'The Division Bell,' nor the Pink Floyd tours of 1987 and 1994, and I have nothing to do with 'Endless River.' Phew! This is not rocket science people, get a grip."
An old battle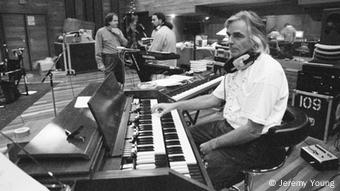 The album is dedicated to Richard Wright, who died of cancer in 2008
The tone of his post suggests that bad blood remains among the performers. The band's one-time mastermind, who wrote all its lyrics beginning with 1973's "Dark Side of the Moon," one of the most successful records of all time, left the band in 1985, calling it a "spent force creatively." He did not expect Pink Floyd would continue - and felt betrayed when the band did.
That led to a dispute over the name Pink Floyd and rights to the songs. The remaining band members were ultimately permitted to continue playing Waters' pieces. Waters responded with an independent mega-show based on "The Wall" that he put on in 1990 at Berlin's Potsdamer Platz, where the Berlin Wall had stood. Stars like Bryan Adams, Cyndi Lauper and Joni Mitchell joined Waters on stage - but there was no sign of Gilmour, Wright or Mason.
Today drummer Nick Mason looks back on it all with a certain wisdom of age. In an interview with Germany's daily "Die Welt," he said that he and Waters have long since reconciled - and that Waters is his oldest friend by far. Nonetheless, Mason said it would have felt strange to invite his former bandmate to sessions for "The Endless River," even though he personally would have loved Waters to be there. David Gilmour sounds less conciliatory, rejecting the prospect of working with Waters again.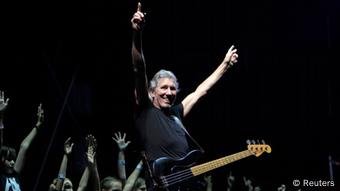 Roger Waters has continued with performances of his show, "The Wall"
Goodbye for good?
Now the album, which is primarily instrumental with the exception of one song, is available and shot to number one on Amazon's sales charts through presales alone.
It's certainly a treat for die-hard Pink Floyd fans longing for some more of the band's old sound. At times, a little of their classic songs like "Wish You Were Here" and "Echoes" comes through. Many pieces are carried by long and elegiac solos, just like the man in the white shirt on the cover is carried by clouds.
The album's cover photo leaves plenty of room for interpretation. Is it really the final album of the iconic rockers, or could a continuation come? Drummer Nick Mason is releasing a solo album in 2015 and seems less opposed to the idea of continued recording, but guitarist David Gilmour said this album marks the ultimate end for Pink Floyd. In the ballad "Louder Than Words" - the final track on the album and the only one with vocals - Gilmour comes to a philosophical conclusion: "We bitch and we fight / But this thing we do, it's louder than words."
And so the man on the cover could easily be a symbol for the last two Pink Floyd friends, as they ride off into the sunset with their "new" old music.