Peruvian President Pedro Pablo Kuczynski offered his resignation on Wednesday, a day before congress was to hold an impeachment vote.
The surprise resignation came as the opposition on Tuesday released secretly recorded videos allegedly showing Kuczynski's allies offering public works contracts to lawmakers to secure support against a previous impeachment vote.
"Faced with this difficult situation that unfairly makes me appear guilty, I think the best thing for the country is for me to resign the presidency of the republic," Kuczynski said in a prerecorded televised address to the nation of 30 million people.
"I do not want to be an obstacle, for the country to continue suffering with the uncertainty of these recent times," said Kuczynski, who was elected in June 2016 amid high expectations he would hold a steady hand over the economy.
Lawmakers accepted his offer of resignation and will debate the topic on Thursday. Vice President Martin Vizcarra, currently the ambassador to Canada, could be sworn in on Friday.
Kuczynski, a 79-year-old economist, denied that the recordings were proof of vote buying and corruption, saying the videos were selectively edited as part of a malicious opposition campaign to tarnish him. Over the weekend he had described the opposition's attempt to impeach him as a "coup."
It was uncertain if congress would go ahead with the impeachment proceedings anyway.
Odebrecht scandal loomed over presidency
The main opposition, Popular Force, began impeachment proceedings in response to documents that showed Kuczynski's consulting firm had received $782,000 (€634,000) in payments from Brazilian construction giant Odebrecht more than a decade ago.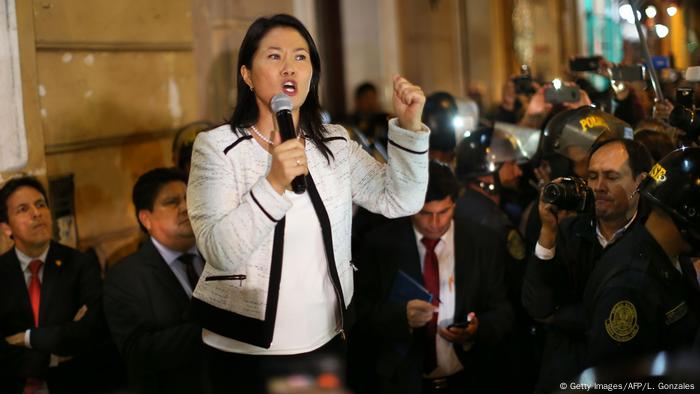 "This government thought it could buy everything. There will always be brave and worthy Peruvians who are not for sale. It's time to tell Mr PPK that he's leaving, and NOW!" Keiko Fujimori tweeted, using Kuczynski's initials.
Odebrecht has admitted to an $800 million corruption-kickback scheme that spanned 12 countries, 10 of them in Latin America. In December, Odebrecht admitted paying several million dollars to two consulting companies linked to Kuczynski when he was a minister between 2004 and 2006.
Kuczynski survived an impeachment attempt over his Odebrecht ties in December by eight votes after he secured the help of Kenji Fujimori, the brother of Popular Force leader Keiko Fujimori.
Kenji was later expelled from the Popular Force parliamentary group. Days after the impeachment vote, Kuczynski controversially pardoned former-President Alberto Fujimori, who was serving time in prison for human rights violations. Many viewed the pardon of Kenji Fujimori's father as a reward for his political support.
Kenji was one of several lawmakers that appeared in the videos.
There is no proof that Kuczynski committed a crime, but his opponents argue he should have disclosed the Odebrecht payments. Kuczynski maintains he left a business partner in charge of the consultancy while a minister and paid taxes.
Odebrecht has said the payments were not part of an ongoing corruption investigation in Peru.
cw/sms (AFP, AP, dpa, Reuters)