Germany's leading producer, Bernd Eichinger, who has brought other literary works such as Umberto Eco's "The Name of the Rose" and Isabel Allende's "The House of the Spirits" to the silver screen has turned his attention to Patrick Süskind's suspense novel, "Perfume - the Story of a Murderer." Now being filmed in Germany, Spain and France, the project has a Hollywood-sized budget of $60 million (49 million euros).
The scene of the unusual and sensual tale is 18th century France. A boy, Jean-Baptiste Grenouille, is born with two unique characteristics. He has no odor of his own but possesses an amazingly refined sense of smell. As a youth, he delights in exploring the olfactory landscape of Paris and eventually becomes an apprentice to a perfumer, Giuseppe Baldini, where he learns the art of mixing oils and herbs to produce scents.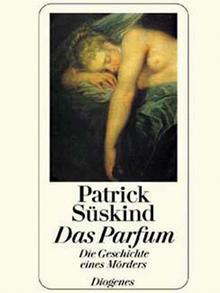 The book
But as his talents develop, he becomes obsessed with capturing the scents of everyday objects, like a door knob or freshly cut wood. One day, he comes across the hint of a scent that will send him down a path of murder and sexual depravity.
The book was published in 1985 and became an international bestseller. It was translated into 42 languages and has enjoyed worldwide sales of more than 12 million. Now, it is heading for the silver screen.
"I am attracted by a story if it is outstanding and cannot be placed in a genre per se," Eichinger told reporters. "This was absolutely the case with 'Perfume,' which I regard as one of the best novels of the last 50 years."
Long delay
It has not been easy to bring the novel to the cinema, since the film rights were initially not for sale. The book's publicity-shy author Süskind, who lives in Munich, had turned down offers from the likes of big Hollywood players like Martin Scorsese, Ridley Scott and Milos Forman.
It helped that Eichinger and Süskind knew one another personally and in 2001, the producer was finally able to obtain the rights. He and his production company, Constantin Film, won't reveal the cost of those rights, but estimates are that the amount could have been upwards of $10 million.
Eichinger is not afraid of spending lots of money or tackling challenging projects. His movie "Downfall," which depicted the last days of Adolph Hitler's life and aroused some controversy, was nominated for an Academy Award in the foreign film category.
After working on a screenplay, Eichinger decided to bring German director Tom Tykwer on board. His credits include "Run, Lola, Run" and the English-language film "Heaven."
Star power
A particular coup for Eichinger was luring Hollywood star and Academy Award-winner Dustin Hoffman to the film. The 67-year old will play master perfumer Baldini.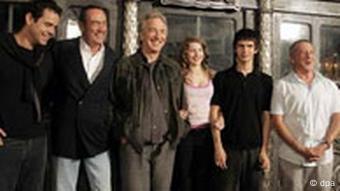 Tom Tykwer (l-r), Bernd Eichinger, Alan Rickman, Rachel Hurd-Wood, Ben Whishaw und Dustin Hoffman in Bavaria Studios while filming "Perfume"
His apprentice, and murderer of women, Grenouille, is portrayed by British actor Ben Whisaw, who starred in the film version of Ian McEwan's novel "Enduring Love" and recently received acclaim for his work in a London production of Hamlet.
According to Eichinger, finding a good fit for the main character was important, since he does not fit into Hollywood's traditional role of good guy. "The central figure is an anti-hero, a negative character," Eichinger said. "He is not really a film figure in the sense of being a hero."
Other cast members include England's Rachel Hurd-Wood and German actress Karoline Herfurth.
Shooting of the interiors began in Munich this summer at Bavaria Film's Studio 12, where Baldini's perfumery at the Pont au Chance was recreated. It is an octagonal room filled with flacons, bottles and cylinders, with an ornate fountain in the center.
Now production has moved to Spain and France where it is scheduled to wrap up in October. The theatrical release is set for September 2006.