When media giants Bertelsmann and Pearson in late 2012 announced plans to merge their subsidiaries into what would become the Penguin Random House group, the publishing industry was speechless. With global revenues of 2.5 billion euros ($3.3 billion), the combined company would control a huge portion of the English and Spanish book markets.
High-volume authors like Michael Crichton and E.L. James would share the shelves with respected literary figures like Orhan Pamuk, Salman Rushdie and Gabriel García Marquez. And Penguin Random House's scope would stretch from China to Chile and from New Delhi to New York.
Across continents
A global approach has long been part of the company culture on both sides of the merger, with both having been well positioned in the traditional English-speaking markets in the US, UK, Canada, Australia and New Zealand. Penguin, owned by Pearson, has also been a strong brand in India and China, while Bertelsmann's Random House ranks third on the Latin American book market.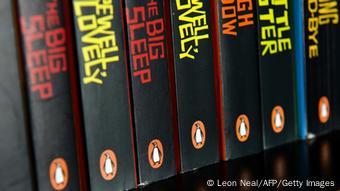 Penguin is known for classics, but has updated its design
But it's not just market position that makes this merger significant. Penguin dates back to the period between the World Wars, while Bertelsmann and Random House have a nearly 180-year tradition. Many readers who grew up in the UK or in former British colonies know Penguin's inexpensive classics.
Both publishing houses have shown a commitment not only to the mainstream audience but also to supporting the best contemporary authors. Together they have published works by 70 Nobel Prize winners, including German writer Günter Grass.
Since neither the European nor the American cartel authorities had qualms with the merger, it went through more quickly than expected, concluding earlier this week. Both houses had largely been active in the entertainment area, which is strictly regulated by the cartel authorities.
Which author each publishing house works with is not important for the authorities, but when scientific or academic texts are properly sourced, the state is called on to take action. "The world's really large publishing houses are particularly active in the areas of science and education," said industry expert Rüdiger Wischenbart.
Compared to these houses, the newly merged Penguin Random House is only the fifth largest in the world, so of less interest to cartel authorities.
Competing with Amazon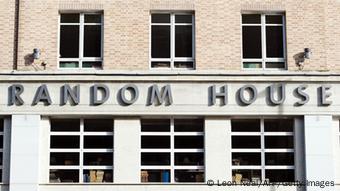 Random House is based in London
The alliance between Penguin and Random House is aimed in particular at making books more visible in an environment where there are fewer and fewer bookstores, said Markus Dohle, former head of Random House in New York and now CEO of the merged company.
In the last few years, major booksellers have gone under, especially in countries like the US and UK, where - unlike in Germany or France - books don't have a fixed price set by the publisher. US giant Borders, once the second largest bookseller in the world, threw in the towel in 2011. And price wars with online dealers and supermarkets have led to further shutdowns: The number of booksellers in the UK has nearly been cut in half since 2006.
The idea behind the merger is to create a formidable force capable of standing up to online seller Amazon, which has upset the book market in recent years with its rock-bottom pricing. In the US, by far the world's largest book market, Amazon sells more printed books than all other booksellers combined. As far as e-books are concerned, Amazon maintains a market share of more than 60 percent.
Plans for expansion
Keeping up with Amazon, however, is not the only reason for the merger. The authors themselves present another threat: Self-publishing has long become a effective trend not only among hobby poets but also among future bestselling authors. Even E.L. James, the author of the recent hit "Fifty Shades of Grey," first published herself online.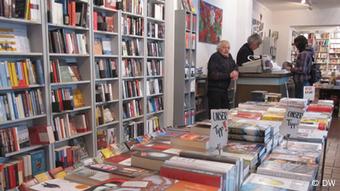 Many tradition bookstores have succumbed to online dealers
It has been speculated that the Penguin Random House fusion could be just the starting gun for further mergers. Bertelsmann head Thomas Rabe said that his company has set aside several billion euros for expansions over the next few years.
Readers may not care who published the books they read. But in the long-run, fewer larger publishing houses means less variety. Critics warn that for authors, a mega-merger like Penguin Random House is not good news.