"The Israeli side and its government have an interest in dragging things into a cycle of violence and are trying through escalation at Al-Aqsa and settler attacks to escape their political impasse and international isolation," Palestinian President Mahmoud Abbas said in a statement on Monday.
His comments came as a Palestinian youth died in clashes with Israeli soldiers in the West Bank, also on Monday. The Palestinian Liberation Organization's Negotiations Affairs Department tweeted this message:
The Israeli military said hundreds of Palestinians participating at a rally organized by the militant group Hamas threw firebombs and rocks at soldiers, who used tear gas and stun grenades to disperse them.
More than 456 Palestinians had been injured in violent protests in the past two days, the Red Crescent said.
Israel's military also reported an airstrike on Palestinian territory on Monday, but neither side reported casualties.
Jerusalem's Old City closed to Palestinians
In a drastic move, Israel barred Palestinians from Jerusalem's Old City after two Israelis were killed by a 19-year-old Palestinian on Saturday. The youth, Muhannad Halabi, first attacked an Israeli family as they walked through the city, killing the father, seriously injuring the mother and the couple's two-year-old toddler. He then stabbed another Israeli man to death and opened fire at tourists before police shot and killed him.
In an urgent meeting on Sunday, Israeli Prime Minister Netanyahu announced a slew of new measures "to prevent terror and deter and punish the attackers." These included a faster demolition of the homes of those accused in the attacks, broader use of detention without trial for suspects and troop reinforcements for Jerusalem and the West Bank.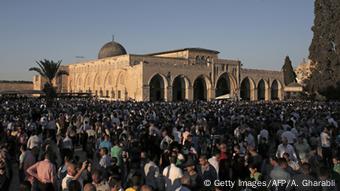 The al Aqsa mosque compound is also considered holy by Jews, who call it the Temple Mount
Restraining orders would also be used to keep "inciters" away from the Al-Aqsa compound, Netanyahu said; only Palestinians working, living and studying in Jerusalem's Old City and Israelis and tourists would be allowed to enter. The restrictions are to last for two days, up to the end of the Jewish Sukkot holiday.
Israel has blamed Palestinians for the increasing violence around the Al-Aqsa mosque compound, revered as the Temple Mount by Jews, in Jerusalem's Old City.
mg/msh (AP, AFP)