The 36-year-old filmmaker got her first break in 2001. She was offered a chance by the New York Times Television production company to make her film Terror's Children. In the film, she documented the lives of eight Afghan children that were refugees in the city of Karachi and showcased their daily struggles.
In 2012, eleven years after that first chance, Chinoy won an Oscar for her film Saving Face, which chronicles the journey of a plastic surgeon who treats acid attack victims. Her work's main focus is on human rights and gender issues. Her film Pakistan's Taliban Generation won an Emmy in 2010. Chinoy has, meanwhile, produced 12 award winning documentaries in 10 countries.
She is also the founder of The Citizens archive of Pakistan (CAP), a nonprofit organization dedicated to cultural and historic preservation which educates citizens about their heritage. In a DW interview, Chinoy talks about her latest project Three Braves (Teen Bahadur), an animation film for children, and the changing face of Pakistan's film industry.
DW: Tell us about your latest project Three Braves (Teen Bahadur).
Sharmeen Obaid-Chinoy: Three Braves is a quintessentially a Pakistani story - replete with unlikely heroes, menacing villains, fumbling thugs, dark horses, and moments of triumph and bouts of despair. Based in a fictional town in Pakistan, eleven-year-old Amna, Saadi and Kamil set out to save their community from the many evils that plague it.
This film is fiction and very different from your previous line of work. What made you choose this medium?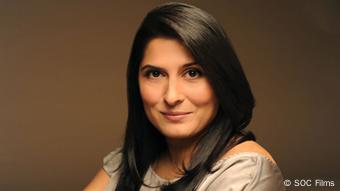 Chinoy says Pakistani film industry stands to be "a formidable force in the near future"
I had wanted to do something for children for a long time because we, as a nation, have completely neglected this demographic. Our youth makes up the largest and, undoubtedly, the most important section of our society and now more than ever, they need local heroes to look up to.
After experimenting with many mediums, we settled on animation because its creative freedom allows us to speak to children in a way that no other medium can. I want Pakistani children from every nook and cranny to see Three Braves and be entertained and inspired. I want them to finally be able to see their reflection in movies, with superheroes that look and speak like them.
What kind of subtle messages are packed into your film Three Braves?
The great thing about animation is it offers a lot of scope for creativity and imagination. On the surface Three Braves might appear to be about superheroes and mystical creatures. But underneath that commercial cartoon value is a force that seeks to engage, empower and motivate today's youth. The film is a journey of fighting back, taking charge, and finding support and love in the most improbable of places.
How different has the journey of producing this film been compared to your previous projects?
I was nervous because I had never worked in animation before, and documentary films are very different in terms of content and style. When we started working on Three Braves, back in summer of 2012, it was an uphill climb - putting together a team, learning how animation works from the initial sketch to the final shot, and diving into a medium that is both expensive and time consuming.
However, what surprised me was the ease with which we found exceptional illustrators, writers, animators and visual effect artists. With their help, we found our pace a few months into the project. Seeing the characters that had only existed in static images come to life with their own quirks and mannerisms was an incredible experience!
What kind of media content for children exists currently in Pakistan?
Pakistan has a very young population, but its media industry is only catering to adults. Most of the content for children is imported and thus our youth grows up with role models and heroes that they cannot relate to culturally.
I felt that it was about time we produced light-hearted, quality content for children locally so that they can finally see characters that look and speak like them on the big screen. The fact that we are giving our children local mentors and heroes is one of my proudest accomplishments.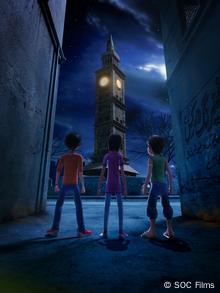 Three Braves is a story of three kids who set out to save their community in a fictional town in Pakistan
How do you project the future of animation industry in the country?
The animation industry has so much to offer, and animation is such a beautiful medium. It truly is fiction and story telling in its purest form, and its appeal is not just confined to young children. We have all the ingredients to one day be a nation that produces multiple animated films every year.
If we can sustain the interest being created now, we can achieve exponential growth over the next 5 years. I hope that Three Braves does its part in stirring a demand for locally produced animated content, because I have no doubt that Pakistani talent can compete with the very best in the world if we are only given the time and material required to do so.
What opportunities exist for budding filmmakers in Pakistan?
Pakistan is a great place to be for budding filmmakers and I believe that our film industry stands to be a formidable force in the near future. The media industry is booming; there is plenty of fresh talent and an audience that is waiting to be entertained. We have a beautiful country where every street and every corner has a story waiting to be told.