Marcel Reich-Ranicki, Germany's foremost literary critic, has died at the age of 93, the "Frankfurter Allgemeine Zeitung" reported on Wednesday (18.09.2013). Reich-Ranicki was in charge of the literature section of the national newspaper in the 1970s and hosted the famous television book discussion program "The Literary Quartet" throughout the 1990s.
These and the many other outlets he found for his pronouncements on German books and writing made him one of the country's best-known cultural critics.
Reich-Ranicki was one of just a handful of Jewish public figures in Germany to resettle in the country after surviving World War II. Born in 1920 in Wloclawek, Poland, the son of a factory owner, the future critic attended high school in Berlin but was denied entry to university because he was Jewish.
"In school I was an outsider," he recalled. "I never had a home, my home in the 1930s was the Third Reich. But a home was built for me, one made of literature."
After being deported to Poland in 1938, Reich-Ranicki met his wife Teofila (Tosia) and escaped with her from the Warsaw Ghetto. His parents and brother, however, were murdered by the Nazis. He returned to Germany in 1958 and dedicated himself to the study of German language and literature. His favorites were the great classics: Goethe, Heine, Kleist, Fontane and Thomas Mann.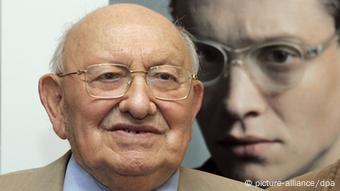 The Polish-born critic was celebrated for his clarity
Risky career move
"When I came to Germany in '58 and I saw what people were writing about literature in the [newspapers here] I told my wife: I want to do an experiment," Reich-Ranicki said in an acceptance speech on receiving a North Rhine-Westphalia State Prize in 2005.
"These people write so confusingly, so cryptically, I just don't like their criticism," he continued. "I will say loud and clear what I think about books. It is risky, and two things could happen: I will either rise to the top of the literary criticism hierarchy, or sink to the very bottom. But I have to try."
He was a critic for the weekly newspaper "Die Zeit" and later, the "Frankfurter Allgemeine," and was a member of the literary society "Gruppe 47." Reich-Ranicki's opinions remained incorruptible and sharp, and he was famous for his refusal to mince words.
Speaking his mind
That attitude cost him a few friends over a long career. His dedication to speaking his mind caused a major uproar in 2008 when he was invited to receive an honorary German Television Prize for his contribution to culture.
As recipients awaiting awards usually do, he sat passively in the audience as one TV personality after another came up to make a speech, accept an award or tell a few jokes.
He was not impressed with what he saw - when the time came for him to accept his honorary award, he stunned viewers by rejecting it.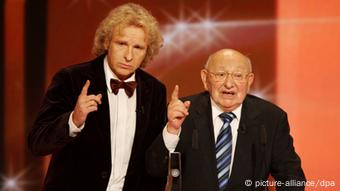 His rejection of the German TV prize in 2008 was a major shock
"I cannot accept this prize," Reich-Ranicki told the shocked audience. "I didn't know what to expect here, and I think it is awful that I had to sit through this for so many hours."
At first, some of the guests at the ceremony thought Reich-Ranicki was joking. But in this case he was simply telling it as he saw it - live and on the air. By giving an open critique of what he saw as the poor state of German television, Reich-Ranicki underlined his reputation as something of a crank, not to mention a "hard taskmaster" and even "an executioner," as different critics put it.
Reich-Ranicki answered his detractors by saying that his main job was to be tough and critical.
Years on 'The Literary Quartet'
"Being called an 'executioner' is nonsense," Reich-Ranicki told broadcaster WDR in a 1986 interview. "But I try to be clear in my criticism. And the clarity of criticism, well, that is a question of politeness. You have to be polite to the readers. And that means being clear and explicit with your meaning, not hiding behind ambiguous or enigmatic phrases."
Hosting "The Literary Quartet" between 1988 and 2001 brought Reich-Ranicki to the small screen some 77 times, and automatically launched him to the top of Germany's cultural heap.
Despite his fame, however, many thought that he certainly wasn't infallible. He had a reputation for judging literature more by his personal preferences than by serious criticism, but that didn't stop his opinion from making and breaking many a literary career.
Some illustrious names among those who raised his wrath - including Peter Handke, Günter Grass, and Martin Walser - had to fight their way into the market. Meanwhile, his personal favorites like Spanish writer Javier Marias or Berlin chronicler Judith Hermann more or less owe their success to Reich-Ranicki's praise.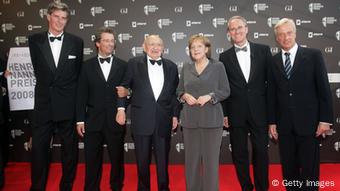 Chancellor Angela Merkel awarded Reich-Ranicki the Henri Nannen Prize in 2008
Boring book? Bad news
The worst thing that Reich-Ranicki could say about a book was that it was "boring." His anti-academic, folksy, and agreeably polemical ideas about literature can be traced back to his own biography. As persecuted Jews in the Nazi era, Reich-Ranicki and his wife were hidden by a Polish printer. In recompense, the literature lover regaled his benefactors with an endless supply of stories from Shakespeare, Goethe, Schiller and others.
Telling stories to stay alive - it was an experience that made a lasting impression on Reich-Ranicki, whose biggest successes came when he broke the taboos of literary criticism. Years later he wrote his own life story, and - unlike the biographies of many other critics - this one became a bestseller. It was made into a film in 2009.
"I wrote a book about my life. Quite simply, what I experienced," said Reich-Ranicki about his autobiography. "The echo of this book was a big surprise."