Freed Boko Haram hostages have recounted grave mistreatment by the militants, including forced marriages, sexual abuse and being made to fight, as details of their time in captivity emerged Monday.
"For some of them, who are really showing signs of trauma, we need to make them realize that this is not the end of life," Sa'ad Bello, the camp coordinator for the National Emergency Management Agency (NEMA) in Adamawa state, told Agence-France-Presse.
Another NEMA spokesman, Manzo Ezekiel, told AFP they were working to establish long-term support for the freed hostages.
"They need trauma management so they're not treated as outcasts when they go back to society," he said, adding that the women would receive testing not only for conditions like malaria, but for sexually transmitted diseases. The victims were suffering from malnutrition.
Terrifying escape
Some of the rescued women told of the horror they faced even when close to freedom, reporting that some who had hidden themselves under bushes as army forces advanced were unintentionally run over by military tanks. Other hostages had been killed by landmines or stray bullets while attempting to escape.
One of the former hostages, Lami Musa, told the Associated Press news agency that Boko Haram started stoning women as the military moved in. She said last week's rescue had saved her from a forced marriage to one of the fighters who had killed her husband when she was kidnaped five months ago.
"They took me so I can marry one of their commanders," she said, adding that when they realized she was already four months pregnant they told her the marriage would go ahead once she had given birth. She had a daughter the night before she was rescued.
"We just have to give praise to God that we are alive, those of us who have survived," she said.
Hundreds freed, thousands thought missing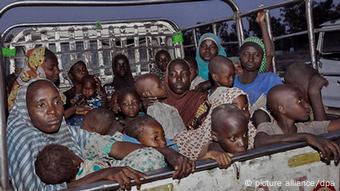 Hundreds of hostages have been freed in the past week, Nigeria says
About 700 women and children have been freed in recent days from Boko Haram stronghold areas in northern Nigeria's Sambisa forest, according to the army. That includes some 275 women and children brought to a camp in Yola, Adamawa state. It's unclear whether any of the schoolgirls from Chibok, whose kidnapping in April 2014 sparked worldwide outrage and the Bring Back Our Girls campaign, are among them.
An estimated 15,000 people have been killed in the insurgency by the extremist group in its bid to establish an Islamic state in northern Nigeria since 2009. Amnesty International estimates more than 2,000 women and girls have been abducted since the beginning of last year.
In recent months Nigeria's military, along with armies from neighboring Chad, Cameroon and Niger, has reported winning back vast amounts of territory from Boko Haram, whose name roughly translates to "Western education is forbidden."
On May 29 Nigeria's President Goodluck Jonathan is due to hand over power to recently elected Muhammadu Buhari. Jonathan's handling of Boko Haram was seen as one of the reasons for his electoral defeat.
se/jil (epd, AFP, dpa, Reuters, AP)