For a long time now, Turkey has been one of the few states with justified ambitions for speedy accession to the European Union. But Turkey's old elation at the prospect of full membership has long gone up in smoke. So have the hopes of European leaders for a partner in the continent's southeastern corner that fits into EU values, a partner that is also reliable and on issues like foreign policy, the economy, and security. Twelve years ago, when he won his first election, President Recep Tayyip Erdogan actually inspired the Europeans: he was regarded as the man who would finally realize the political and economic reforms that his predecessors - who led what were at the time the established parties - had been unable to.
Bad news
But at the moment, Erdogan generates only negative headlines, both at home and abroad. In Europe in particular, he sparks fears that he might be dangerously destabilizing Turkey. The judiciary, the security apparatus, the media, the business world - they are all now organized around Erdogan's wishes and goals. Anyone who protests, or thinks or acts for themselves, is either suspended, arrested, or exiled to remote regions.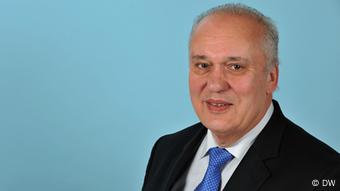 DW's Baha Güngör
Fethullah Gülen, a preacher living in exile in the United States, is the head of a very large opposition community, and Erdogan's bitter enemy - even though he accompanied and supported him in the early years of Erdogan's rise to power. Now he wants nothing more than to topple him at any price. Like Erdogan, Gülen uses the rhetoric of democracy, modernization, human rights, and protecting minorities. But people who know Turkey know that replacing Erdogan with Gülen would merely be swapping the devil with Beelzebub. To support his ostensibly modernizing aims would be to repeat the mistake that people in Turkey and the West made when they believed and trusted Erdogan.
Turkey and the rule of law
And yet we cannot allow a member of NATO - a country that was one of the first to join the Council of Europe and a founding member of the OECD - to simply take political opponents into custody on spurious, unjustified grounds. If members of the opposition are getting arrested and have to prove their innocence while prosecutors fail to provide evidence of any criminal activity, Turkey will lose its reputation for the rule of law.
Even though the optimism that Erdogan once awoke in Europe and the US has long since turned to pessimism, we still have a last chance to turn it around. Only determined and honest Europeans can stem Turkey's drift into a de facto one-party state with a despotic one-man-show at its head. But a precondition for that is handling Turkey credibly and sincerely. Important new chapters of the EU entry negotiations must be opened - we cannot constantly push Turkey further from Europe.
Europe can and must help Turkey
The next chapter of those talks would cover justice, basic rights, freedom, and security - all areas that have become so important for the future of Turkey. And not only Turkey! A scenario where Turkey, still after all a halfway functioning pluralistic democracy, collapses into chaos does not bear thinking about. The political and economic tsunami that would reach Europe if that happened - threatening its own security - would surely be immense.