While the principle of crowdfunding, where a range of projects can attempt to attract donors online, is relatively well established in the US, Europe is now catching up with a number of websites launching in Germany since October.
Inkubato, Startnext and MySherpas have all launched in the last few months and have begun attracting donations for creative and charity initiatives. A forth, Seedmatch, hopes to raise money for German start-up enterprises and has announced it will shortly go online.
Figures released late last week from the three sites show that Inkubato has raised the most funds with 30,000 euros ($39,000), followed by Startnext with 12,000 euros ($16,000) and MySherpas with 9,000 ($12,000).
"Especially in Germany there's a different sponsoring culture," said MySherpas co-founder Markus Zabel, explaining the lag in the development of the crowdfunding model of online giving in Europe.
American crowdfunders raise big dollars
While the amounts raised by German crowdfunders are not yet skyrocketing, the growth of crowdfunding in America has been substantial and sudden.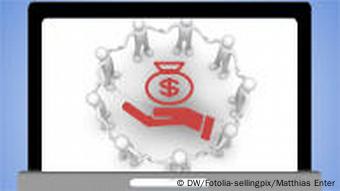 Crowdfunding has worked very well for the American market
Pioneering crowdfunders Kickstarter, founded in April 2009, announced last week via Twitter that it has raised $30 million (23 million euros) in total. Kickstarter collected the first $15 million in 16 months, the second followed in just 16 weeks.
Igor Schwatzman is the founder of online consulting firm Thirdwaveberlin, and he believes trust may also be a factor for Germans being more reticent to pledge donations online.
"Obviously there's a lot of money in Germany and in Western Europe and I think people are giving away a lot of money to institutions, but they are giving to institutions where they think - 'I trust somebody'."
Behind the crowdfunding model
Crowdfunding works by posting a series of projects online and allowing people to pledge donations to these projects.
So if a project needs 1,000 euros ($1,300), then 10 donations of 100 euros would make it happen. Importantly however, if the amount pledged within a specific timeframe is not reached, none of the pledges are collected.
"It's a great idea for creative projects, smaller projects, small charity projects to get publicity, to get money to fund their projects," explains MySherpas' Markus Zabel.
Fun, creative and wacky projects suited to crowding
The range of projects open to crowdfunding on the German sites is very broad and the creative industries feature strongly. There are a number of film projects online now across the various sites.
One of these is film and television composer Hans Hafner's project. He has written an introductory piece for the independent film "Abschiedstournee". He is trying to raise 2,500 euros ($3,300) for a full symphony orchestra recording of his piece.
"If you're working in indi-films there's no financing really, but if you do want an orchestra playing, that means 50 people playing so you need some money," explains Hafner.
With only one week remaining until the window for funding his project closes, Hafner has raised 67 percent of the funds he requires and he hopes to attract the remaining funds.
Some more unusual projects have also been successful in attracting funds such as a "Dim Sum Western" film, which will contain all the familiar aspects of a western yet set on the rooftops of Hong Kong.
"We will see less weird projects at first here in Germany because, I shouldn't say that, but Germans are less playful," said Schwatzman. "But at the same time, you don't need as much money. Say this guy needs 500 euros, let's do it, and with 10 people it's funded."
Author: Jonathan Gifford
Editor: Sarah Steffen