In front of a crowd that Berlin police estimated to be as large as 100,000, Obama acknowledged differences between America and Europe, adding that "no doubt there will be differences in the future.
"But the burdens of global citizenship bind us together," he said, speaking under the central Berlin landmark of the Victory Column facing towards the Brandenburg Gate.
Partnership among nations was not a choice but the only way to protect the security of Europe and the US, the Democratic Party presidential hopeful said.
Obama challenged a new generation of Americans and Europeans to tear down walls between estranged allies, races, and faiths in his soaring call for global unity.
"That is why the greatest danger of all is to allow new walls to divide us from one another," he said in reference to the Berlin Wall that divided the city from 1961 to 1989.
"Partnerhip is not a choice but a means of survival"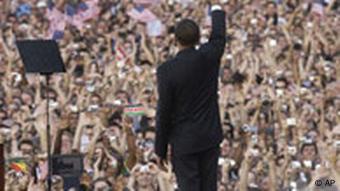 Obama spoke of partnerships between nations
In a speech that risked being seen as presumptuous, considering Obama will not even face US voters for another three months, he warned of a world where partnership was not a choice but the only means of survival.
"No one nation, no matter how large or powerful, can defeat such challenges alone," he said, signaling that, if elected president, he would end what many Europeans see as the unilateral foreign policy approach of President George W Bush.
Obama also made clear he would not take the US into isolation.
"That is why America cannot turn inward. That is why Europe cannot turn inward," he said.
Crowds respond to Barack 'n' Roll
A party atmosphere gripped the crowds around the Victory Column monument as people listened to the man many hoped would replace George W Bush as leader of the world's most powerful nation.
A roar went up from the multi-ethnic crowd when Obama strolled confidently onto the stage to talk of the US-German partnership and the need to strengthen transatlantic relations to meet the challenges of the 21st century.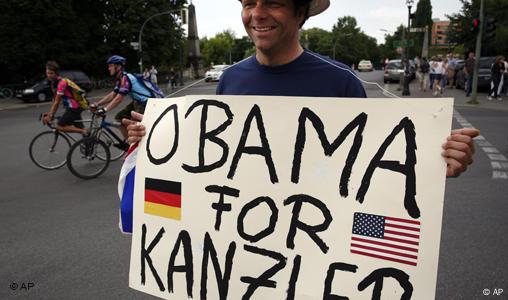 Supporters had more than the White House in mind
Around 100,000 lined the boulevard linking the Victory Column to the Brandenburg Gate, where Obama had originally intended to speak but later dropped the plan after Merkel signaled her disapproval at the site being used for foreign election campaign speeches.
Many of those present queued patiently for over an hour outside 20 airport-style security gates where they were required to empty their pockets and dispense with drinks containers.
Once inside they were able to refresh themselves with plastic mugs of German beer and snacks as a pop band livened up the audience on a warm mid-summer evening.
No banners or placards were allowed on the strip guarded by around 1,000 police and other security officers as the Obama team sought to ensure that no unwelcome slogans were aired on US television.
But Democrats inside distributed US flags to their supporters and a green poster was held aloft by an Obama fan with the words "I Love Barack 'n' Roll."
Outside the entrance gates to the security zone, US Democrats wearing Obama '08 buttons launched a recruitment drive, yelling out "US citizens register to vote."
Obama talks of breaking down global walls
The strikingly audacious speech, in a fevered atmosphere in Berlin's famed Tiergarten, took the White House race out of US borders in a way never seen before, and was designed to portray Obama as a leader with unique global appeal.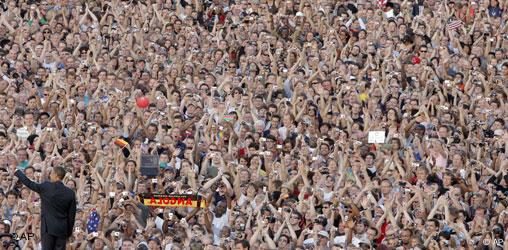 The huge crowd responded to Obama's calls for unity
"The walls between old allies on either side of the Atlantic cannot stand," he said, referring to festering divisions between Europe and the United States opened up by the US-led invasion of Iraq in 2003.
"The walls between the countries with the most and those with the least cannot stand," said Obama, in an address beamed live on US and German television channels and to viewers around the world.
"The walls between races and tribes; natives and immigrants; Christian and Muslim and Jew cannot stand. These now are the walls we must tear down," Obama said, drawing cheers and applause.
Obama's speech was a clear echo of former US president Ronald Reagan's call to then Soviet leader Mikhael Gorbachev in Berlin in 1987 to "tear down this wall," before the fall of Communism.
Full of passion, short of specifics
Despite its soaring cadences however, the speech was short on specifics. Obama's aides said he would not talk policy as that is the job of a president but his critics will likely slam him for empty rhetoric.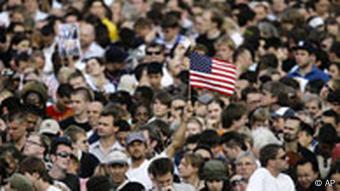 Thousands stood listening in the balmy Berlin evening
The Illinois senator rebuked both his country and Europe for blaming one another for strains in their relations, but took pains to insulate himself from critics back home who doubt his patriotism.
"I also know how much I love America. I know that for more than two centuries, we have strived, at great cost and great sacrifice, to form a more perfect union; to seek, with other nations, a more hopeful world," he said.
"In Europe, the view that America is part of what has gone wrong in our world, rather than a force to help make it right, has become all too common," the 46-year-old first term senator said.
"In America, there are voices that deride and deny the importance of Europe's role in our security and our future. Both views miss the truth."
Obama, who has a narrow lead in most polls of the US race, but trails McCain when voters are asked who would be the most credible commander in chief, used Berlin's triumph over division and totalitarianism as a metaphor for the world he hoped to forge.
"People of the world -- look at Berlin, where a wall came down, a continent came together, and history proved that there is no challenge too great for a world that stands as one," Obama said.
He also promised America under his watch would be serious about tackling global warning, a huge concern in Europe and a cause of rifts between the continent and the United States during the Bush administration.
Europe needs to do its part, Obama urges
But he also signaled he would demand Europe live up to its side of the bargain, asking for more help in the struggle against al Qaeda and the Taliban in Afghanistan.
"America cannot do this alone," Obama said. "The Afghan people need our troops and your troops; our support and your support to defeat the Taliban and Al-Qaeda, to develop their economy, and to help them rebuild their nation.
"We have too much at stake to turn back now."
Obama is vowing to pour at least two more combat brigades into Afghanistan, which is currently being pummeled by a rise in extremist violence and attacks, if he is elected president -- with some troops to be redeployed from Iraq.
His aides have said that he believes NATO nations should provide more troops for the conflict, and remove operating restrictions on forces that are already there.
In an interview with CBS News on Monday during his first-ever trip to the war-torn nation, Obama warned conditions were "precarious and urgent" and also called on the Afghan government to do more to stabilize the country.
Merkel resists Obama pressure over troops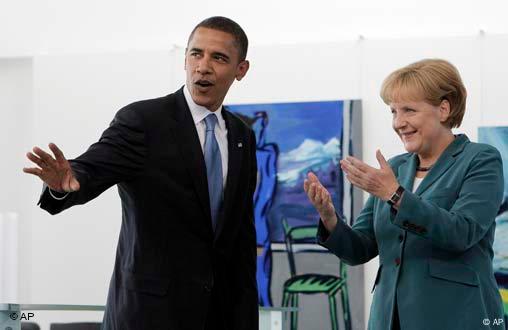 Merkel was firm on troops during the cordial meeting
Before giving his speech, Obama on Thursday met German Chancellor Angela Merkel, who signaled clearly a day before that she would resist any pressure to send more troops to Afghanistan.
Merkel said Germany had no plans to go beyond pledges made last month for the NATO-led ISAF mission.
"I can give Barack Obama the good news that we will be boosting the mandate to include 1,000 more troops for the ISAF mission. We also just took over the command of the quick reaction force (in northern Afghanistan)," she said.
"Thus I will make clear that we are not shirking our responsibilities for engagement but I will also make the limits very clear, just as I have done with the current president."
An apparently worsening security situation in Afghanistan has seen troop deaths there exceed those in Iraq for the second month in a row.
Forty-nine soldiers from the NATO-led International Security Assistance Force (ISAF) and the separate US-led coalition died in combat, attacks or accidents in June, according to an AFP tally based on military statements.
By contrast, 31 soldiers including 29 Americans, were killed in Iraq in June despite the fact that there are more than twice as many troops there as in Afghanistan, icasualties.org figures showed.