US President Barack Obama, who flew to Turkey on Sunday night after attending the EU-US summit in Prague, said that Turkey's membership in the bloc would be an important symbol of cooperation between the West and the Muslim world.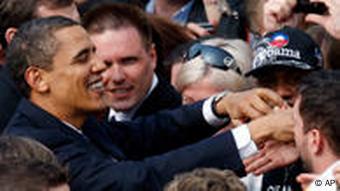 The US president has enjoyed an enthusiastic welcome in Europe
"The United States and Europe must approach Muslims as our friends, neighbors and partners in fighting injustice, intolerance and violence," Obama said in his address to European Union leaders at a summit in Prague.
"Moving forward towards Turkish membership in the EU would be an important signal of your commitment to this agenda and ensure that we continue to anchor Turkey firmly in Europe," he added.
The US has long supported Turkey's efforts to become a member of the EU, but a number of countries -- including France and Germany -- have come out against Turkey's accession into the bloc and have instead offered the country special treatment that falls short of full membership.
"I have been working hand-in-hand with President Obama, but when it comes to the European Union it's up to member-states of the European Union to decide" on membership, Sarkozy told French television in an interview from Prague.
"I have always been opposed to this entry and I remain opposed," he said.
Slow progress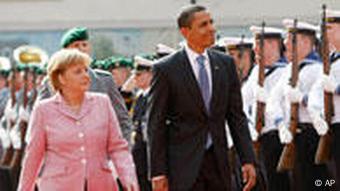 Merkel believes that Turkey's EU membership is still an open question
Turkey started EU accession negotiations in 2005 but has recently been criticized for making little progress due to domestic debates and a diminishing will for further expansion among EU members.
Ankara has opened talks on 10 out of the 35 policy areas it needs for EU entry but has provisionally completed negotiations on just one. The EU has frozen eight chapters as Ankara refuses to open its ports and airports to Greek Cypriots.
Under a policy setup by her predecessor, German Chancellor Angela Merkel has officially accepted the ongoing accession talks. But she and other members of Germany's conservative parties have also been promoting offering Turkey a "privileged partnership" rather than membership in the bloc.
"I believe that a close relation between the Muslim world -- and Turkey, in particular -- with the European Union is in the interest of us all," Merkel said in Prague.
But she stressed that the actual form in which relations will develop is yet to be determined.
"We're still wrestling with that," Merkel said.
Is Turkey ready?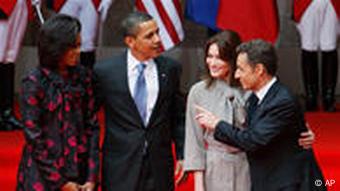 Sarkozy, right, does not see eye to eye with Obama on Turkey
European Commission chief Jose Manuel Barroso, on the other hand, welcomed Obama's comments and said the goal of Turkish membership had not changed.
"We have started a process of negotiations with Turkey for membership of the European Union and that was a unanimous decision of the European Union, all the 27 member states," he said at a press conference at the end of the summit.
"Of course we have to go on with the negotiations and, at the end, we have to see if Turkey is ready to join and if the European Union is ready to integrate Turkey."
"That has been clear and consistent position of the European Commission and therefore I very much welcome the comments of President Obama."
Meeting global challenges
Obama took the opportunity of the one-day summit to set out the foreign policy visions of his administration, telling the 27 EU leaders that Washington would play an active role in fighting climate change as well as dealing with the current economic crisis.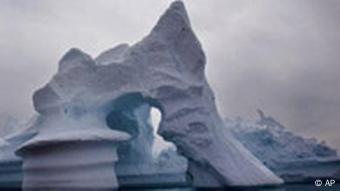 The United States and Europe will fight climate change together
"Europe and the United States are strongest when we stand together," Obama said.
EU President Mirek Topolanek said the US leader's visit to Prague was "a symbol of the new level of US-European relations."
But in remarks to the summit, Obama also stressed that he expected something from Europe in return, saying the EU needed to take steps to overcome its differences on accepting Guantanamo Bay prisoners.
"A strong partnership requires shared responsibility," Obama said.
This, Obama said, would help to ensure that action would be taken to help those who had been hardest hit by the economic storm while pledging to bridge the gap between the US and Europe over global warming.
The president's remarks on climate change were greeted positively by EU leaders, with Barroso saying the views in Europe and Washington were now much more in line.
"It is true we are now much more on a convergence path with our American friends than before [with] the past policies of the USA," Barroso said following the summit.