A huge fireball filled the screen in court room 250 in Oslo District Court, as an explosives expert showed a video of a replica bomb police detonated as part of their investigation into Anders Behring Breivik's murderous attacks. They built it using Breivik's own manual.
The defendant watched from his seat in court. Sitting just meters away were families of those killed by his original bomb last July. It exploded outside government buildings not far from the court house.
'Unreal scenario'
"When you are in a totally unreal scenario and hear about a scenario which is even worse, you can almost not comprehend it," said Thor Langli, the police officer responsible for coordinating authorities' response the immediate aftermath of Breivik's car bomb outside government buildings.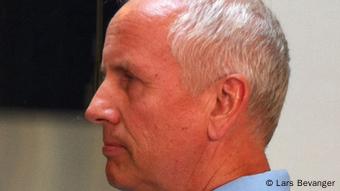 Thor Langli told DW July 22 was 'almost incomprehensible'
He was informed of the Utoya shootings while still trying to comprehend the enormity of the Oslo bomb attack.
Langli was one of the first to give evidence in court of the effects of Breivik's violent attacks. He told DW how he was faced with an almost impossibly chaotic situation as he arrived just minutes after the bomb had gone off.
"Destruction, wreckage everywhere, injured people walking around, people in shock and dead people lying there," he said. "I was absolutely sure it was a terror attack from the start and wanted to get that message out as quickly as possible so my team could be prepared and armed in case they met the perpetrator."
Stories of the dead
Up to this week, Breivik had been defining the story of what happened on July 22 in his five-day testimony. For the trial's remaining eight weeks the five presiding judges will hear about the stories of the 77 he has admitted killing - and the stories of the hundreds he injured. Six days will be taken up with coroners' reports of every one of the 69 who were killed there.
Breivik has called all of the victims his "enemies, proponents of immigration and multiculturalism," people he has "no regrets bombing or shooting to death." This week he repeated that even now, after he'd been told many of his victims were younger than 18, he "would do it all again."
Much of the evidence from both Breivik himself and other witnesses has been extremely harrowing, yet the defendant has remained mostly calm, unrepentant and seemingly emotionless throughout.
Lack of anger
Many survivors and victims' families have been in court to watch the proceedings, yet there has been no display of anger or desire for revenge. The same is true for people outside of the court in Oslo or elsewhere in Norway.
One man, giving his name only as Carl, tied roses to the fence surrounding the court entrance. It formed part of a growing sea of flowers with written messages of hope, peace and condolences - an echo of last summer when flowers covered nearly every one of Oslo's public squares in a response to the violence.
"We can't show any anger here, because everything is so crazy," he said.
"So this is our way of - not forgetting it - but thinking of something else and focusing on what happened last summer after the explosion … all the flowers in Oslo. I think it is the same thing we want to do, just to show what we mean about this."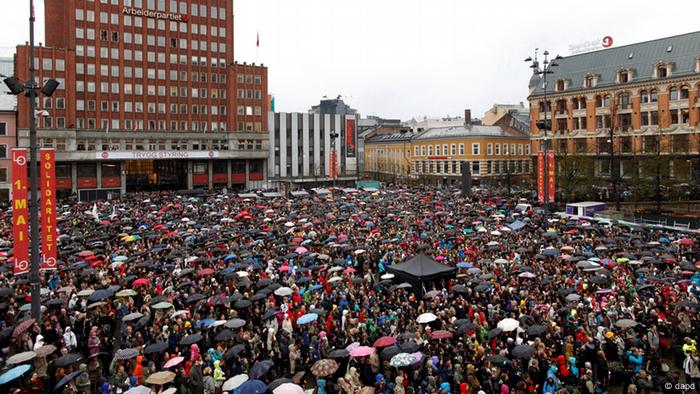 Some 40,000 Norwegians sang outside the court in a bid to put the Breivik violence behind them
'Typically Norwegian'
The lack of angry reactions to Breivik's complete lack of remorse to his extreme violence has puzzled many international observers at this trial. Yet one Norwegian author and commentator who is following the case, Anders Giaever of the Oslo daily Verdens Gang (VG), told DW the reaction was "typically Norwegian."
"We have no tradition for the whole system of punishment. And the justice system is not about revenge - it's about a healing process, I guess that is part of it.
"Breivik is such an extraordinary crime, it's the first time we experience anything like it. If something like this were to happen again I think the mood would change," Giaever said.
Sanity central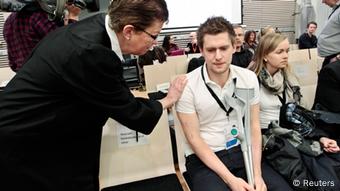 The focus of the trial is now shifting to the victims
Breivik pleaded not guilty to charges of terrorism and premeditated murder. Two psychiatric reports of him have reached opposing conclusions about his sanity. To him it is crucial that the court finds him sane.
His entire so-called political project and ideology which he has used to justify the killings would collapse if he was found to be insane, and he has called the prospect of ending up on a psychiatric ward a "fate worse than death."
At the end of the trial the court must decide whether Breivik is sane. If so, he'll be sent to prison, possibly for life. If not, he will be committed to a closed psychiatric ward. Many Norwegians now say it doesn't matter where he lands - as long as he's locked up.
Author: Lars Bevanger, Oslo
Editor: Gabriel Borrud