The Norwegian government was willing to give up on the controversial project titled "Memory Wound," officials said on Thursday.
The proposed memorial, envisioned by Swedish artist Jonas Dahlberg, called for creating a large vertical gash in the narrow strip of land on a peninsula overlooking Utoya. The 3.5-meter (11.5-feet) slit is meant to serve as a symbol of 77 lives taken in the 2011 massacre. The names of Andreas Breivik's victims were to be engraved on one side of the cliff wall, with a viewing gallery on the other.
People living in the area, however, rebelled against the plans. A group of them sued the government in June, saying the project would harm both the local community and the landscape.
"We want to avoid a long, agonizing legal case and have suggested a compromise," Norway's minister of local government, Jan Tore Sanner, told NRK radio on Thursday.
"We are willing to find a different memorial than the one initially planned," he said. Still, Oslo would keep the same location for the project, according to the minister.
Visitors not wanted
Responding to Thursday's announcement, several locals said Sanner's offer did not go far enough.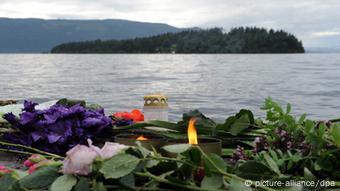 View of Utoya from the shore near Oslo
"This isn't a victory. The location remains the same. Sanner only plans to change the artistic plans. That's out of the question," one of the leading opponents, Ole Morten Jensen, wrote on Facebook.
Residents in and around Sorbraten, where the memorial is due to be constructed, fear that the structure would attract hundreds of tourists to the area. Others, including people who were involved in the rescue effort, say such a monument would be a constant and obvious reminder of the trauma for everyone nearby.
The island itself is already marked with a suspended steel ring which bears the names and age of the people killed on the island.
dj/sms (dpa, AFP)