The US writer and Nobel Peace Prize winner, who turns 80 on Tuesday, Sept. 30, has campaigned worldwide to keep alive the memory of the Holocaust's 6 million dead -- not as a look backward into history, rather as a lesson for the future.
"Those who deign to let their memory of the victims dim, kill them a second time," Wiesel said in a memorable speech delivered to the German Parliament in 2000.
Always a showman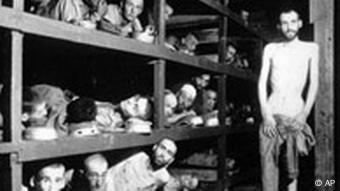 Wiesel, who survived both Auschwitz and Buchenwald, is pictured seventh from left in the middle bunk
His most important literary work is "Night," published in 1958. Wiesel, who considers the book a memoir, gives an incisive and extremely haunting account of his experiences in Auschwitz. The book was translated into 30 languages and is still one of the most-read books about the Holocaust.
After the book was published, Wiesel rose to cult figure status, particularly in the US where he is regarded as one of the foremost leaders of American Judaism.
In 2006, TV talk show star Oprah Winfrey selected a new edition of "Night" as recommended reading for her book club, catapulting sales of the book to new heights. She also accompanied Wiesel on a trip to Auschwitz and invited him to be a guest on her show.
Despite the awards and recognition, critics accuse him of largely marketing himself. "Night" is sometimes labeled a novel or autobiographical account.
Family killed by Nazis
Born Sept. 30, 1928, to a Jewish shopkeeper who ran his own grocery store and a farmer's daughter in Sighet (now Sighetu Marmatiei), Romania, Wiesel was supposed to become a rabbi. But his sheltered religious education in the small Carpathian Mountains was interrupted when the family was deported in 1944 to Auschwitz.
"The name meant nothing to us," Wiesel said later in an interview. "Within a few minutes, all the families were torn apart. Males and females were separated."
Wiesel never saw his mother again. His left arm was tattooed with the prisoner number A-7713 and together with his father he initially was in Auschwitz's main camp. They were later sent to Buchenwald, where his beloved father died shortly before the camp was liberated.
"He was beaten, and I couldn't help him," Wiesel said. "In his last hour he called my name. In the end I no longer answered him. I was afraid."
Wiesel initially reluctant to write
The guilt feelings of Holocaust survivors, the doubt in the existence of God in the midst of such horror and the questions of Jewish identity remained definitively in Wiesel's mind.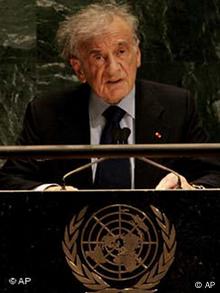 Wiesel has continued his writing and teaching
After the war, he was placed in a French orphanage where he continued his Talmudic studies and later studied philosophy and literature at the Sorbonne in Paris.
For years he worked as a journalist and foreign correspondent, refusing to write about or discuss his experiences in the Holocaust. This changed when he met Francois Mauriac, winner of the 1952 Nobel Prize for Literature, who encouraged him to remember the "unutterable."
Wiesel published nearly 50 more books and essays, novels and plays, after writing "Night." A US citizen since 1963, he became an advocate for persecuted minorities worldwide and won the Nobel Peace Prize in 1986 for speaking out against violence, repression and racism.
"I have never believed in collective guilt," Wiesel said last year at Auschwitz. "The children of the killers are not killers. They are children."
Wiesel is a professor of humanities at Boston University. He continues writing -- mostly in French -- with unabated vim. His wife, Marion, is the top translator of his work into English.
A few days prior to his 80th birthday, he took part as a peace ambassador in a youth parliament of the United Nations in New York where he once worked for nearly 10 years as a correspondent. He received a long, enthusiastic ovation for is rousing appearance.
"We must always take sides," he told his audience. "Neutrality helps the oppressor, never the victim."