"The existing deal is signed and final and there is no need to change it," said Steinbrück after meeting with the chairman of the Center of Organizations of Holocaust Survivors in Israel, Noah Flug.
Flug said that although the reparation agreement with Germany would not be amended, if there were "specific problems" Germany would try to solve them.
"We didn't ask for money, we spoke of the responsibility of the German government," added Flug.
Complaints that Germany's reparations fail to compensate in any reasonable way for the trauma of the Holocaust are ongoing. But the Israeli Holocaust survivors who met with Steinbrück on Thursday, Nov. 23, to request improvements to the reparations arrangement specifically argued that the original agreement failed to take into account today's longer life expectancy or the tens of thousands of survivors who immigrated to Israel after the fall of the Soviet Union.
According to news agency DPA, Steinbrück did agree that Germany would try to help needy survivors via the Claims Committee, the international organization that coordinates compensation payments to survivors.
An unofficial request?
Earlier this month, an Israeli paper published comments by Israel's Pensioners Affairs Minister Rafael Eytan saying Israel was keen to reopen the deal, but he later said he was misquoted and only wished to examine with Germany ways to support survivors given the 'holes' in the original agreement.
On Thursday, a spokeswomen for the Israeli finance ministry confirmed that Israel has never officially requested Germany revise the reparations deal.
The Luxembourg agreement between the two countries stipulated that Germany would pay Israel reparations, and Israel would look after the survivors, who would not be permitted to sue Germany directly.
Since the 1950s, Germany has paid 26 billion euros ($38 billion) in compensation. Around 1.7 billion of this went to Israel, the rest to German claimants.
Israel takes responsibility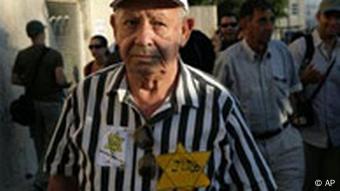 240,000 Holocaust survivors live in Israel
Others say that Israel's reliance on Germany is unreasonable and that the country should look after its elderly Holocaust survivors itself.
After a recent storm of protest by Holocaust survivors who accused the government of abandoning them, Prime Minister Ehud Olmert announced that for the first time in its history, the Israeli government would pay monthly allowances from its own budget to Holocaust survivors and refugees.
The state agreed to give Israelis who survived Nazi ghettos and concentration camps a monthly stipend of nearly $300 ($200), in addition to tax discounts and other breaks. It also approved monthly payments ranging from $40 to $125 for 80,000 Israelis, most from the former Soviet Union, who became refugees as the Nazis conquered Europe but never lived under Nazi occupation.
One-third of pensioners in Israel are Holocaust survivors. Nearly a third of them live below the poverty line, recent welfare reports have shown.