NATO Secretary General Jaap de Hoop Scheffer encouraged greater mobility among the European troops stationed in Afghanistan, including those from the German Bundeswehr, in a statement published in the Monday edition of Berliner Zeitung.
"We need to better configure our forces in Afghanistan," he wrote, reiterating past appeals to the German government. "That also means removing the limitations individual nations have placed on their troops."
Scheffer called lifting deployment restrictions an "important and necessary sign of solidarity among the allies." Last week he said there was no military solution to the country's lack of stability, adding that "Afghanistan is not sufficiently on the EU's radar screen."
German troops to stay in the north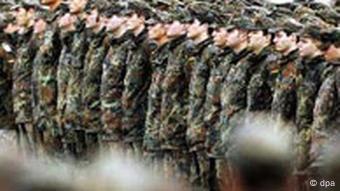 There are 2,800 German soldiers are serving in Afghanistan
For her part, German Chancellor Angela Merkel said Monday in Berlin that no changes needed to be made to Germany's mandate in Afghanistan.
"Germany has a strong presence in Afghanistan. We have taken responsibility for the north," Merkel said. "We have a mandate that allows us in emergencies to help in the south, but we believe this mandate should not be altered."
In late September the German government extended the mandate for its troops stationed in Afghanistan -- a mandate that would allow for deployment to the south if need be and German Defense Minister Franz-Josef Jung said he also did not anticipate any changes in the Bundeswehr's immediate role.
"NATO has prescribed a clear division of labor. This division will remain as it is," he said. "If emergency help becomes necessary, we won't leave our friends stranded."
Germany currently has 2,800 troops stationed in Afghanistan, mainly in the north, as part of the NATO-run peace-keeping mission ISAF.
German Foreign Minister Frank-Walter Steinmeier said Monday during a meeting of EU foreign and defense ministers in Brussels that the stabilization work in the northern part of the country shouldn't be jeopardized by dispatching personnel and soldiers to send to the south.
Possible EU police training mission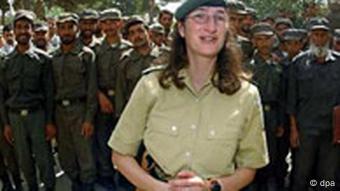 Germany wants EU support for its police training mission
However, Steinmeier did make an appeal for greater involvement in reconstruction, as did de Hoop Scheffer, and for more EU involvement in training the new Afghan police force.
Germany has come under increasing pressure to accelerate the rebuilding of Afghanistan's police force, but Berlin said it has nothing to reproach itself about when it comes to how the country has led the training mission since 2002.
"I strongly believe that we should strengthen our efforts to build up the police force, and that we should ask ourselves if our contribution to reforming the political institutions, especially the rule of law, is sufficient," Steinmeier said.
There was also talk in Brussels of an EU fact-finding mission in Afghanistan to gather concrete information on the current situation and assess the impact an EU police training mission could make.
"The EU stands ready to do even more to contribute to the collective effort and I think that a (European) police operation could be of great value," EU foreign policy chief Javier Solana said.
Mixed opinions among EU representatives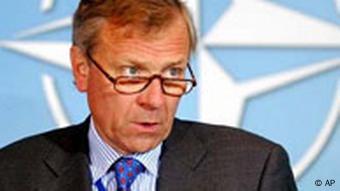 Scheffer wants more troops in the south, where fighting is more intense
British and Dutch officials were supportive of greater civilian involvement, while the French expressed caution.
"There is scope for the EU to reinforce and reinvigorate civilian work on the rule of law in Afghanistan," British Defense Secretary Des Browne said, adding that the EU should cooperate more with NATO and the United Nations. "I want to see it make more of a contribution in this area."
French Defense Minister Michelle Alliot-Marie said she agreed added attention needed to be paid to the region's security but was unwilling to commit French forces.
"On the police, we need to see things more clearly," she said. "To avoid launching something that could lack cohesion, we need to send a fact-finding mission to Afghanistan."