Police in Maiduguri, capital of Borno State in northern Nigeria, say they have teamed up with a vigilante group Civilian JTF in order to rid the city of terrorism.
JTF is a play off the acronym for Joint Task Force of the Nigerian police and military charged with defeating the Islamist insurgency.
The vigilante group and the regular security forces want to stop suspected members of the Islamist militant sect Boko Haram from returning to the capital from where they were expelled in an army offensive in May.
The security forces handed over check points to the vigilante group in June. Civilian JTF comprises of some 500 youths selected equally from all 15 wards in Maiduguri, who act as informers for the police and army. A ward is a subdivision of one of Nigeria's local government areas (LGAs).
Supporters of the vigilantes say they have local knowledge denied to soldiers from other parts of Nigeria.
Civilian JTF's leader, Abubakar Mallum, said the vigilante group operated from strategic locations, armed with ordinary sticks and cutlasses, in what they term as "a mission to end the reign of terror in their locality."
Experts critical of vigilantes
Political analyst Dr Sadiq Umar Abubakar said residents are getting increasingly worried about the way the vigilantes have been given a free hand in security operations.
"These youths have brought the menace we are in now," said Abubakar, "They are not even in school, don't engage in any business, and are carrying sticks and all sorts of weapons around."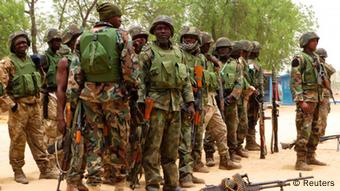 The Nigerian military have claimed successes in fighting Boko Haram, but the insurgency is still active
The youths are seen as a potential threat to the fragile peace that was gradually returning to the state after weeks of attacks.
More than 30 persons are believed to have been killed when when suspected Boko Haram militants carried out coordinated attacks in retaliation for the arrest of members of their sect by the vigilantes.
Security analyst Dr Bawa Abdullahi Wase warns of the dangers of putting security in the hands of the untrained and the unqualfied.
"We know of the nightmare of Bakassi, in Anambra state where Bakassi Brigade eventually fought the government. Even the Boko Haram we are talking about was once the so-called Ecomog Boys of the then civilian government."
The Nigerian army, however, appears to be pleased with the help they are receiving from the vigilante group. Spokesman Brig. Gen. Chris Olukolade said the army would welcome any cooperation if it would help to end the insurgency.
Boko Haram has retaliated with a vow to assassinate anyone caught assisting security operatives with information on its activities.
In an e-mail dated June 18, 2013, a purported Boko Haram spokesman, Abu Zinnira, warned that the group would be launching a manhunt for members of Civilian JTF.