Europe registered the highest number of new HIV cases in a single year in 2015, the World Health Organization (WHO) said on Tuesday, basing the figure on data from the 53 countries included in the UN agency's definition of the European region.
It said there were 153,407 new cases in 2015, up from 142,000 the year before, which had already been a record.
Of the 2015 cases, almost 80 percent were registered in eastern Europe, with Russia accounting for 64 percent overall and 81 percent in the eastern region.
In Russia, where HIV is still a largely taboo subject, heterosexual intercourse is the main transmission route for the virus, which is spread through contact with contaminated body fluids. Ukraine, Belarus, Estonia, Moldova, Latvia and Georgia also had high rates of new infections last year.
Western Europe accounted for 18 percent of infections, and central Europe 3 percent.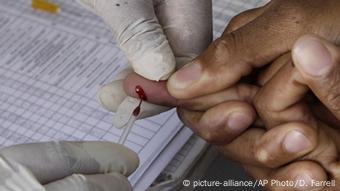 The WHO is working to improve access to testing for HIV
"Despite significant efforts, HIV remains among the main public health concerns in the WHO European region, in particular in its eastern part," said Zsuzsanna Jakab, the WHO regional director for Europe.
She called on countries in the region to implement a new action plan they had endorsed in September. It includes making it easier for people to be tested for HIV and introducing protection methods.
'One in seven unaware of infection'
In the joint report issued with the WHO ahead of World AIDS Day on Thursday, EU health agency ECDC also highlighted the challenges posed to Europe by HIV, saying that many people were unaware that they had been infected.
"HIV/AIDS continues to be a serious problem in Europe... The European Centre for Disease Prevention and Control's estimate that one in seven people living with HIV are unaware of their status is particularly worrying," EU Health Commissioner Vytenis Andriukaitis said.
"People who do not know they are infected cannot benefit from live-saving treatment, and can continue to transmit the virus to others," he said.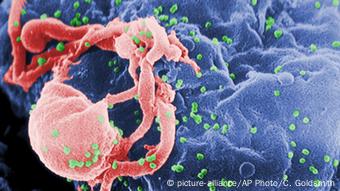 The HIV virus was first clinically observed in 1981
In the 31 countries covered by the ECDC data - the 28 EU nations plus Iceland, Liechtenstein and Norway - sex between men was the main reported HIV transmission mode, accounting for 42 percent of diagnoses. Heterosexual sex accounted for 32 percent of diagnoses, followed by drug use at 4 percent.
In Germany, a recent estimate by the Robert-Koch-Institut suggested that some 84,700 HIV-infected people were living in the country, 12,600 of them without knowing they had contracted the virus.
HIV, which stands for "human immunodeficiency virus," is the cause of AIDS, a condition that weakens people's immune system, meaning that any number of usually routine illnesses can become life-threatening.
tj/msh (dpa, AFP)