Entitled Wolke 9 (Cloud 9), the film follows sexagenarian grandmother Inge, played by Ursula Werner, as she engages in a passionate extra-marital affair with 76-year-old Karl.
The two meet when Karl has seamstress Inge alter his trousers; within minutes they are frolicking around on Karl's living room floor, just like teenagers. Viewers also see Inge go at it with her late-in-life husband of 30 years in an old, creaky bed.
"Yes, we can!"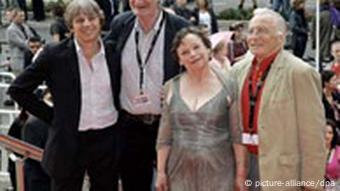 Dresen and the cast went to Cannes for the film's premiere
The film, which snagged a small prize at the Cannes Film Festival in May, premiered in Berlin this week and has since made for some witty headlines on the culture pages of Germany's top newspapers.
Calling age the next front in the sexual revolution, the Berlin daily newspaper die tageszeitung displayed a picture of the film's retired romancers in bed with the headline "Yes, we can!"
The film's release also comes on the heels of a study last month by researchers at the University of Chicago which found that more than three in four American men between the ages of 75 and 85 and every other woman in this same age bracket are still up for sex, reported AFP news agency.
Although he insists that the film is really about love, Dresen admits his intention to break a taboo with Wolke 9 and show his audience that seniors are sexual beings too.
Just a love story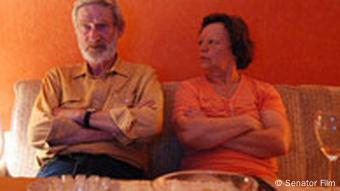 Inge has to choose between two lovers
"Of course it was important to me to show that old people don't just go on bus tours and boat cruises and buy warm blankets," he told die tageszeitung.
With Inge's cavorting between -- or on top of the sheets, Dresen indeed offers a different glimpse into old age. His film comes at a time when Germany is coming to terms with an ageing population as the birth rate drops and retirement homes may soon be overflowing.
At the Berlin premiere, Dresen said he thinks the film's love story about a woman torn between two lovers is more notable than the elderly eroticism.
"Love can sneak up on you at any point," he said.