Just before Christmas, researchers at the Bach Archive in Leipzig caused something of a sensation among music scholars. In municipal archives in the town of Döbeln, musicologist Michael Maul discovered an application letter (link in German) from the year 1751, written just a year after Johann Sebastian Bach's death.
The letter's author is Gottfried Benjamin Fleckeisen, by then a former member of Leipzig's Saint Thomas Boy Choir, and, as such, a former pupil of Bach's. In it, Fleckeisen is applying for a position as cantor at a church in his hometown of Döbeln in the state of Saxony. He boasts that he "had to lead and conduct" musical performances at the Saint Thomas and Saint Nikolai churches in Leipzig for "two entire years" and "completed that service with honor."
What's known of Fleckeisen's biography makes it possible to assume he's referring in those lines to the years 1744 to 1746.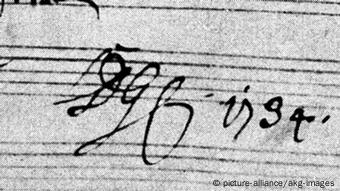 "Soli Deo gloria" (Glory to God alone) appeared on Bach's scores
Inward flight
"There's a huge discrepancy between the worldwide fame that Bach's music has today and what we really know about him as a person," said Michael Maul in an interview with DW. Maul heads a project at the Bach Archive that systematically investigates the lives of Bach's pupils. For that research, any new clue or trace can be helpful.
From 1723 until his death in 1750, Johann Sebastian Bach was in charge of the church music in Leipzig. There have already been signs that he gradually grew weary of his duties. Bach was only the third choice when he was made cantor of the Saint Thomas Church, and the job in Leipzig was hardly a dream come true for the composer. Notes from town council meetings over the years detail numerous conflicts both big and small involving the cantor described variously as "un-industrious" and "incorrigible."
For his part, Bach considered the city's policies on culture to be off the mark.
Nonetheless, researchers have generally assumed Bach faithfully fulfilled his duties. That explains the astonishment at Maul's discovery.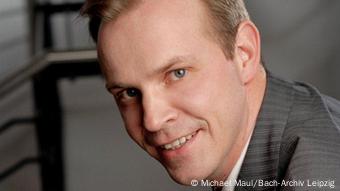 Maul's discovery could necessitate changes to Bach biographies
"For a prefect to have filled in for him to such a degree and for such a long time - no one had been imagining that," Maul explained. "It surprises me that Leipzig's city authorities allowed it. We don't know whether Bach made the decision himself. Maybe it was, in fact, a decision by the city council?"
It's known that Bach lost the privilege at some point to personally choose future members of the Saint Thomas Boy Choir. In 1749, an incident occurred that today might even be called harassment. An audition was held right under Bach's nose for the musician who would be his successor. That represented a significant affront to the Saint Thomas cantor - a lifetime position.
Why did the industrious and dutiful German musician abandon his duties? Was he tired of the job or even depressed? In light of the sensational find, German music journalists have been quick - perhaps too quick - to talk about "Bach's burn-out."
Buzzwords and remote diagnoses
Wolfram Görtz, a medical doctor and music scholar, warns against issuing diagnoses centuries after the fact.
'Bach Through the Mirror of Medicine' was the title of a 2008 exhibition at Eisenach's Bach House
"A case of burn-out is relatively hard to ascertain. And if it was depression, Bach couldn't have composed the way he did during the last decade of his life," said Görtz, who wrote a master's thesis on Bach's cantatas.
Suggestions that Bach suffered self-doubt, an inferiority complex or even something as drastic as losing his sense of purpose in life are ruled out, says Görtz, by Bach's creation of works like "Art of Fugue" or the "Mass in B Minor."
"The man Bach loved quick and efficient work, he loved women - particularly his own - and he loved music!" Görtz sums up.
He has a different take on why Bach might have pulled back from the work routine: "We cannot forget that Bach couldn't see well and perhaps couldn't carry out certain daily tasks as a result of the problems with his eyes."
Profound suffering
Peer Abilgaard, head doctor at the Helios clinic in Duisburg and a professor on musicians' health at Cologne's University of Music and Dance, agrees with his colleague. Bach represents a remarkable phenomenon when it comes to dealing with pain.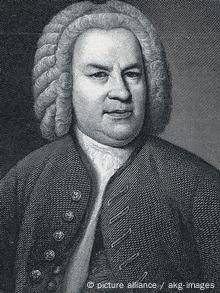 The unclear picture of Bach's life has come into slightly better focus
Abilgaard explains, "He was nine years old when he lost both parents. He was twelve when his brother, the person to whom he was closest, died. He didn't even have the chance to say goodbye to his first wife whom he loved dearly - she died while he was traveling for work. Of his 20 children, he had to bury ten. I find it more interesting to ask how he managed - despite all of this suffering - to create such an extensive oeuvre?"
In fact, it's an oeuvre that is dedicated to anything but suffering - lending people comfort and strength right up to the present. Bach masterfully controlled his mental and physical faculties, scholars believe. As such, it's unsurprising that he might have dispensed with certain tasks he considered burdensome or of secondary importance.
Tired of church music?
From Bach's last ten years, hardly any works written for church services remain. Until now, researchers have assumed these pieces of music were carelessly lost or sold by his inheritors.
Now it seems, says Maul, that "The purportedly missing works probably weren't even composed in the first place."