Her gold-medal performance provided a memorable end to the 37-year-old veteran's eighth World Championships. Nerius had never won a major worldwide competition; Tuesday proved to be her night.
She threw a season's best mark of 67.30 meters to beat defending and Olympic champion, Barbora Spotakova of the Czech Republic (66.42m), while Maria Abakumova of Russia took the bronze (66.06m).
Nerius's victory gives Germany their first gold medal of the competition. Previously, the German team had collected two silvers and a bronze.
Three Germans in the final
Although she was one of three German women competing in the javelin final, only Nerius made it to the podium. But first, she basked in the adoration of the assembled onlookers in Berlin, savoring the thrill of the moment.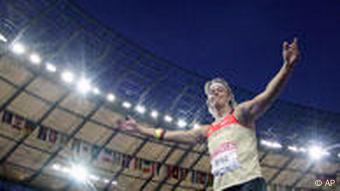 Nerius delighted spectators in Berlin
"This is gigantic, I don't know what to say," she told German broadcaster ZDF. "I never dreamed this would happen."
Nerius added that her win would not make her reconsider her decision to retire in the fall.
The 2004 Olympics silver medallist won the European Championships in 2006 and has won three straight bronzes at the World championships in 2003, 2005, and 2007.
Fellow German competitors Christina Obergfoell and Linda Stahl took fifth and sixth place respectively.
Firsts in seconds
On the track, runners competed in the finals of the men's and women's 400 meter hurdles, as well as the men's 3,000 meter steeplechase.
Kerron Clement of the United States defended his title in the men's hurdles, while Jamaica's Sanya Richards took home her first world title on the women's side of the event.
"Finally, I have own a major title! Finally the hard work has paid off," said Richards, who had had trouble winning in major finals, despite being the dominant 400m hurdler over the past years. She failed to qualify for the 2007 worlds and then tired dramatically on the home stretch at the 2008 Olympics to finish third.
In the 3,000 meter steeplechase, Ezekiel Kemboi finished in front, edging out his countryman Richard Kipkemboi Matelong by half a second.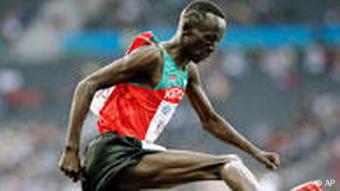 Kemboi kept his concentration
Even closer, however, was the race for third. Frenchman Bouabdellah Tahri snatched bronze, and finished just eight tenths of a second ahead of Paul Kipsiele Koech. Had Koech been a touch faster, it would have been a Kenyan sweep of the medals.
Briton Phillips Idowu, meanwhile, prevailed in the triple jump. He leaped 17.73 meters, finishing 18 centimeters ahead of his nearest competitor, Olympic champion Nelson Evora of Portugal.
Lightning strikes twice?
The world championships' reigning superstar Usain Bolt was also in action on Tuesday, easing into the semifinals of the 200 meter dash.
He finished his heat in 20.41 seconds, a time that two other runners in other heats had already bested. As ever though, Bolt seemed unworried.
"I feel a little tired," he said. "I am taking it round by round, but in the final I will be running hard."
It was Bolt's sixth race in four days, including his stunning 100 meter performance on Sunday night in which he set a new world record of 9.58 seconds. Thursday will see Bolt go after his own record in the 200 meters, 19.3 seconds.
mrh/dc/dpa/Reuters
Editor: Nigel Tandy