The Supreme Court of Cassation in Rome has ruled that compensation claims brought by wartime Italian soldiers who were interned and forced into labor by the Nazis are legitimate.
The court threw out Germany's objections that Berlin's "sovereign immunity" meant it could not be sued in an Italian court, reported Italian daily La Repubblica on Thursday, June 5.
Germany has no right to cite state immunity against the Italian civil proceedings, decided the court, on the grounds that there is "no doubt that the international community deems the deportation of these people and their coercion into labor as a crime against humanity."
Germany had denied compensation to the soldiers who were interned after Fascist Italy declared a truce in September 1943. The Nazis then took control in Italy and deported many of the interned Italian soldiers to Germany to work in factories for no pay.
Berlin has in the past compensated Italian civilians forced to work. In this case, however, it argues that the deportees were prisoners of war and there was no basis for the claim.
Epic decision
The ruling marks the latest twist to a series of World War II compensation claims dogging Germany.
In another case, the German government could end up paying up to 28 million euros ($93.54 million) to families of the victims of a Nazi SS massacre in the Greek village of Distomo in 1944, when troops murdered 218 men, women and children.
The case was heard in Italy after Greece's highest court ruled in 2002 against the claimants, arguing that Greek courts could not try cases against a foreign country.
The litigants took the case to Italy, to see if they could reach a more favorable ruling there -- as has happened.
The Italian court ruled that if Germany refuses to cooperate, German assets in Italy could be seized as collateral.
Martin Klingner, the claimants' Hamburg-based lawyer, described the move as an "epic decision."
Legal saga
The ruling was part of a long legal saga for victims seeking damages for massacres in over 60 Greek towns and villages.
Germany maintained that it settled all such claims in the 1960s with a payment of 43 million euros and refused to pay.
The Greek court subsequently authorized the seizure and auction of German state properties in Athens, including the Goethe Institute, the German schools in both Athens and Thessalonica, as well as the German Archaeological Institute.
But the Greek government refused to approve selling the land for compensation, and court officials stopped trying to seize German property after Berlin launched a legal appeal.
In 2003, Germany's Federal Court of Justice said that Germany was only liable to pay compensation to states, not to individuals affected by war crimes perpetrated almost 60 years ago.
Foreclosure sales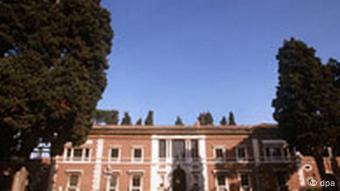 German cultural centers in Italy might come under the hammer
If Germany refuses to pay this time, Italy has threatened that German cultural centers in the country, such as the German-Italian cultural center Villa Vigoni on Lake Como, will come under the hammer. Goethe Institutes in Italy could also be auctioned off.
The German government has so far refused to comment on the court decisions, although a foreign ministry spokesman said Friday that Berlin was mulling its next move, but that German property in Italy such as consulates and cultural institutes would be protected by diplomatic immunity.
According to reports, international law experts believe Germany may lodge a case against Italy with the International Court of Justice in The Hague, which could prove highly damaging to German-Italian relations.