The United States, NATO's leading member, had pushed for a thorough rebuilding of the Alliance after the terror attacks on New York and Washington in 2001 and the deployment of international troops to Afghanistan. Washington set out to convince its fellow alliance members that NATO should be remodelled in order to face new challenges.
US Defence Secretary Donald Rumsfeld had developed the idea of using NATO as some sort of "tool kit" for the protection against global threats. In 2002, heads of states and governments decided to develop a quick response force, scheduled to be fully operational by October 1st of this year.
The military dress rehearsal for the force took place this summer on the Capverdian Islands. NATO Secretary General Jaap de Hoop Scheffer was quite satisfied with the test run. "I am convinced that we will be fully operational by October 1st, just as scheduled," he said at the time.
NRF's 26,000 soldiers are now ready for action. The troops -- lead by Supreme Allied Commander of NATO in Europe, General James Jones -- are to be able to react to crises within a lead time of 5 days.
NATO member states will provide troops for the NRF on a rotational basis. The soldiers will stay in their home barracks until required for an emergency. They will be on duty for at least half a year, and 6 months prior to their deployment, will get trained on how to interact with other nations' armies.
Germany taking lead in NRF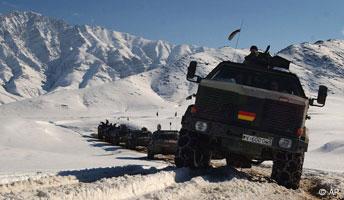 NRF: Any time, any place, anywhere
Currently, the German Armed Forces are providing the largest amount of soldiers. German commander, General Gerhard Back, explained that not all of the 26,000 NRF soldiers are to be deployed at once. Rather, units with different abilities such as air transport, mine clearance or ground fighting, are to be available on request.
"I need all of those skills at my disposal so I can chose whichever unit I need when going on a specific mission," General back said. "I don't know yet what my next mission, or the next crisis situation will look like. When the political decision is made, I can assemble my forces with what I need."
NATO will assess potential missions on a case by case basis. The response force is not designed to take part in permanent missions like United Nations peace keeping operations. Instead, its job is to clear the way for peacekeepers, so that they can take over afterwards.
Funding problem still to be solved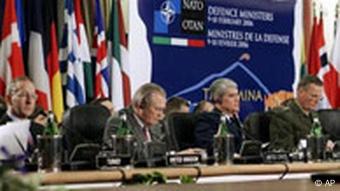 NATO leaders are still wrangling who pays for NRF
Funding the force remains a disputed topic. Some smaller NATO member states are in favour of an allocation system where all members pay into a pooled fund from which missions can be financed.
Big member states like Germany, however, prefer the current system whereby each state pays for its own soldiers and deployments. NATO's de Hoop Scheffer said a compromise is the most likely outcome.
"Free and democratic states always argue, even within NATO. I believe we are at a point where we're finding a balance about what each state pays for and what comes from NATO's budget – we can call this common funding," he said.
The largest operational deployment of the NRF so far was the dispatch of units to Pakistan to support the earthquake relief effort, as well as to the United States to help victims of hurricane Katrina.
From Sunday, the new NRF will be ready to respond to whatever comes next.